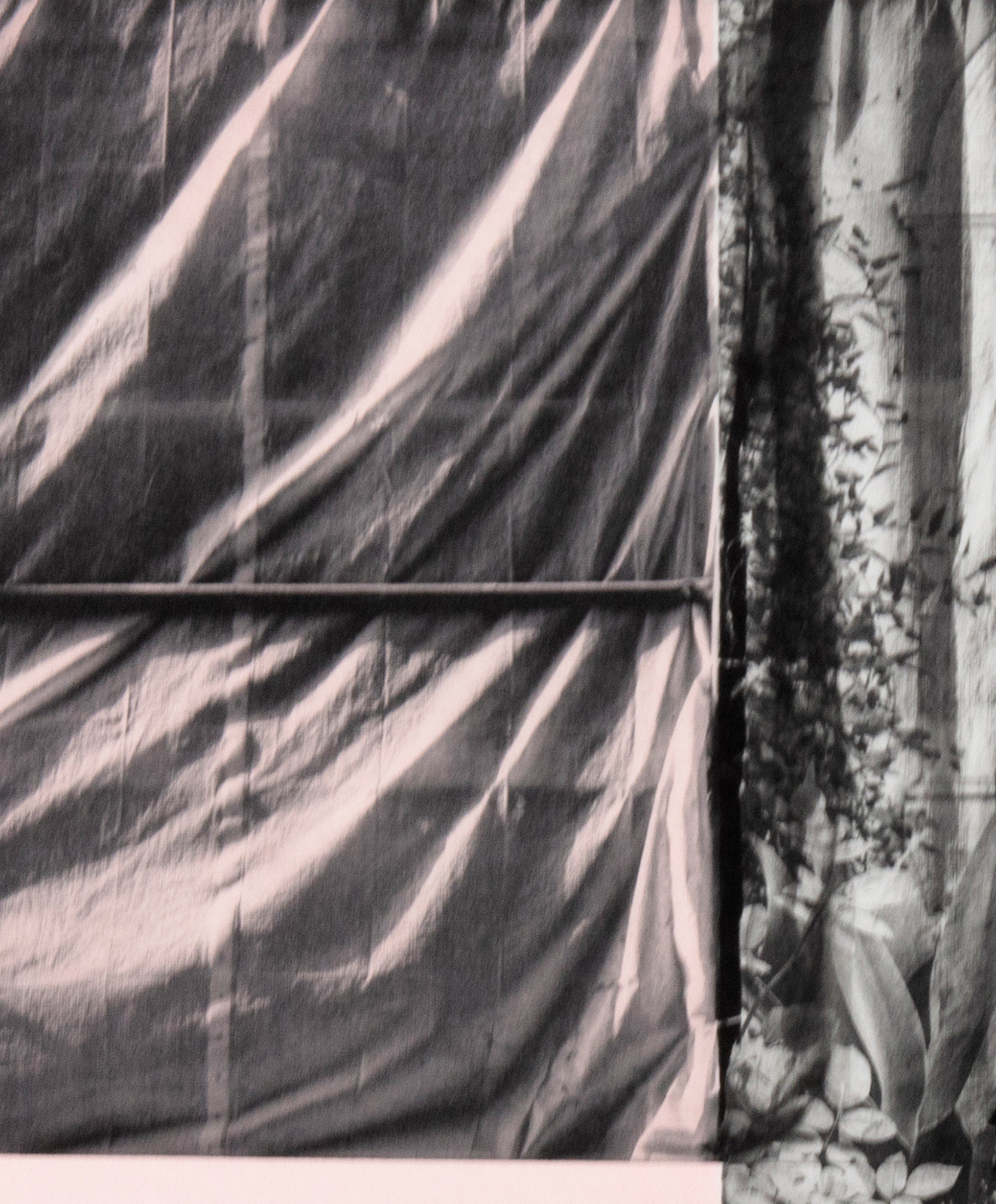 Overlap #6 detalje, E.T. Munk&Jerichau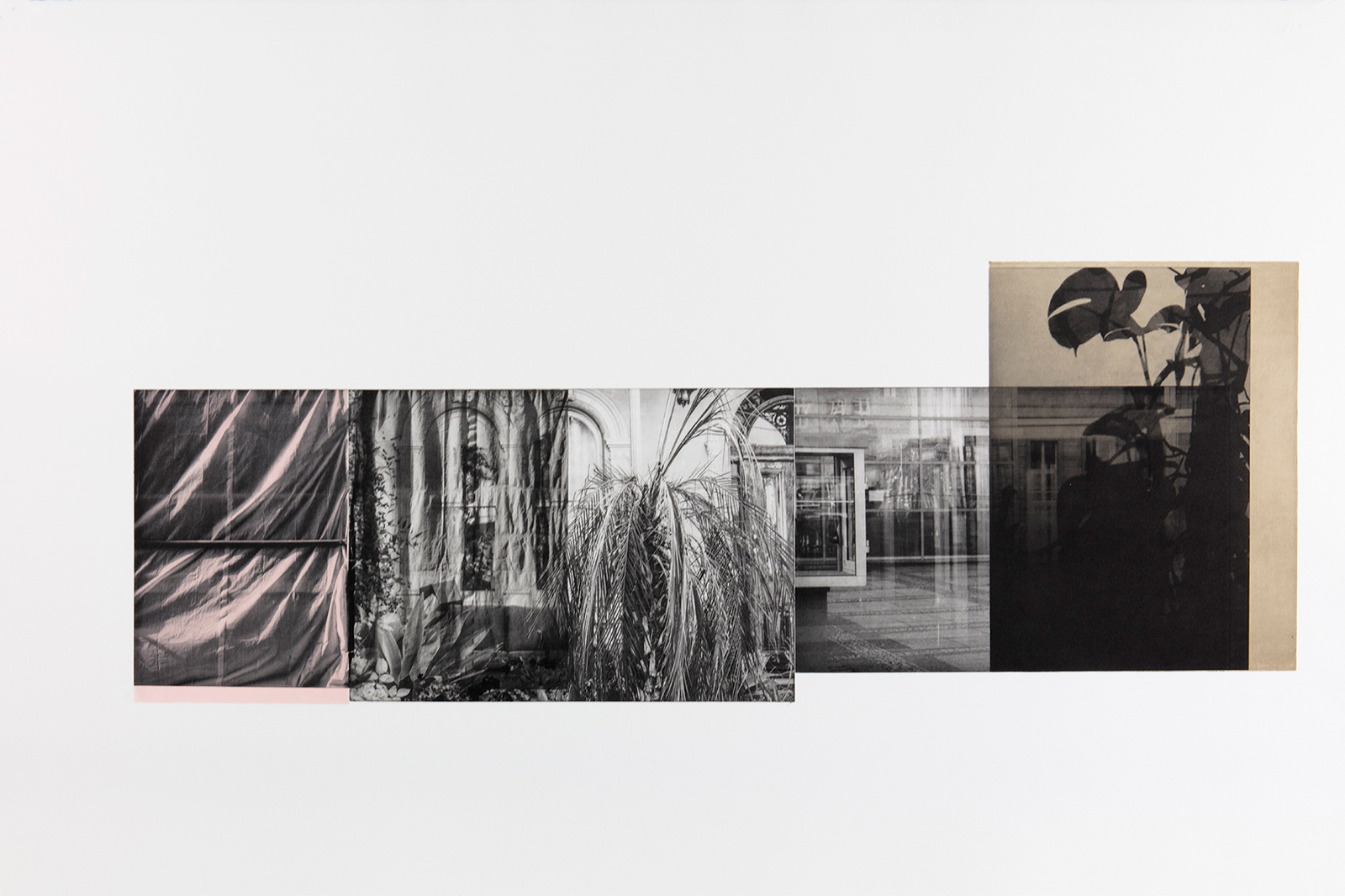 Overlap #6, E.T. Munk&Jerichau, BKF Rives 63×91 cm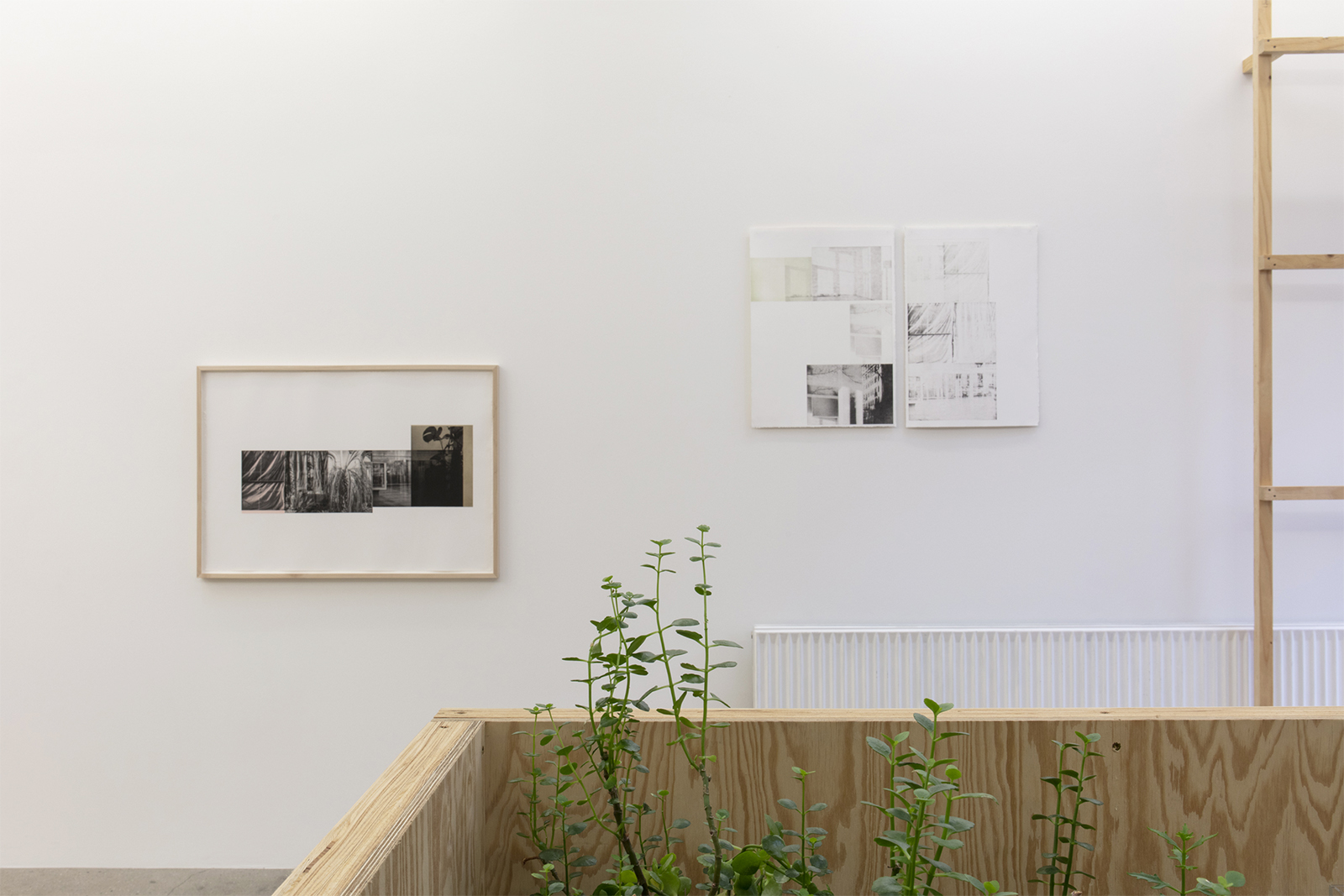 Overlap, installationview, Enter ArtSpace november 2021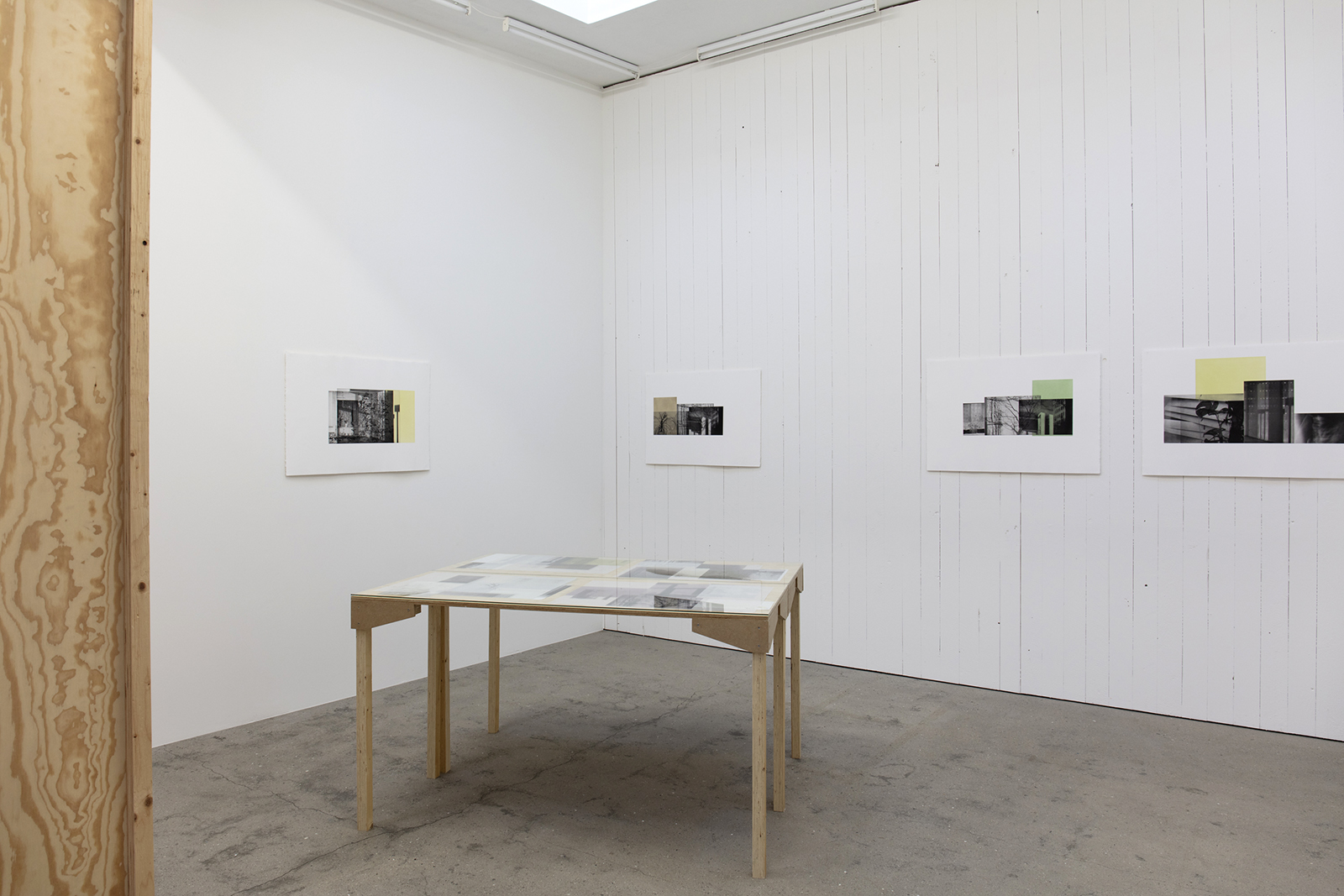 Overlap, installationview, Enter ArtSpace november 2021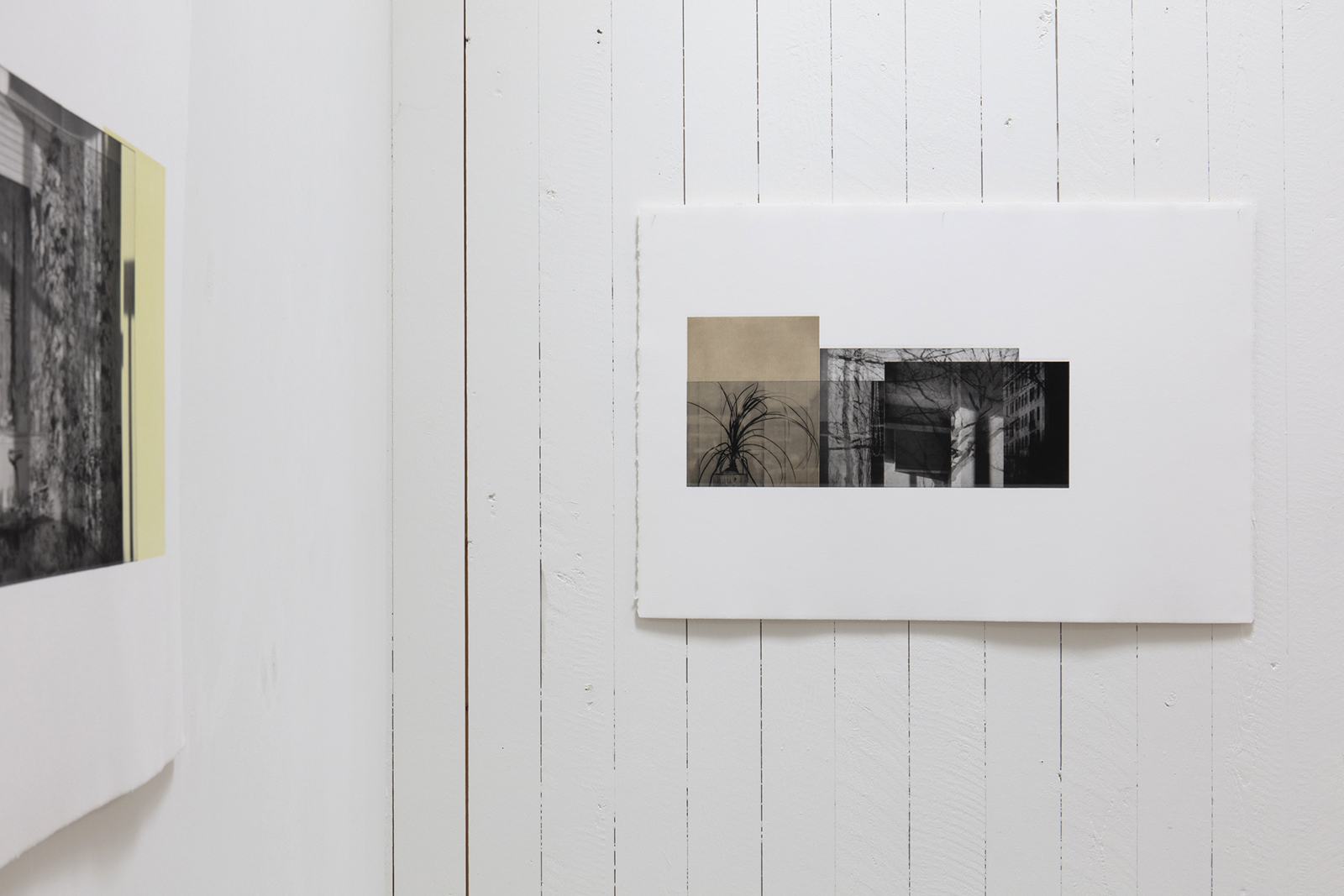 Overlap#7 (tv) og Overlap#4. E.T. Munk&Jerichau, BKF Rives 63×91 cm
Overlap, installationview, Enter ArtSpace november 2021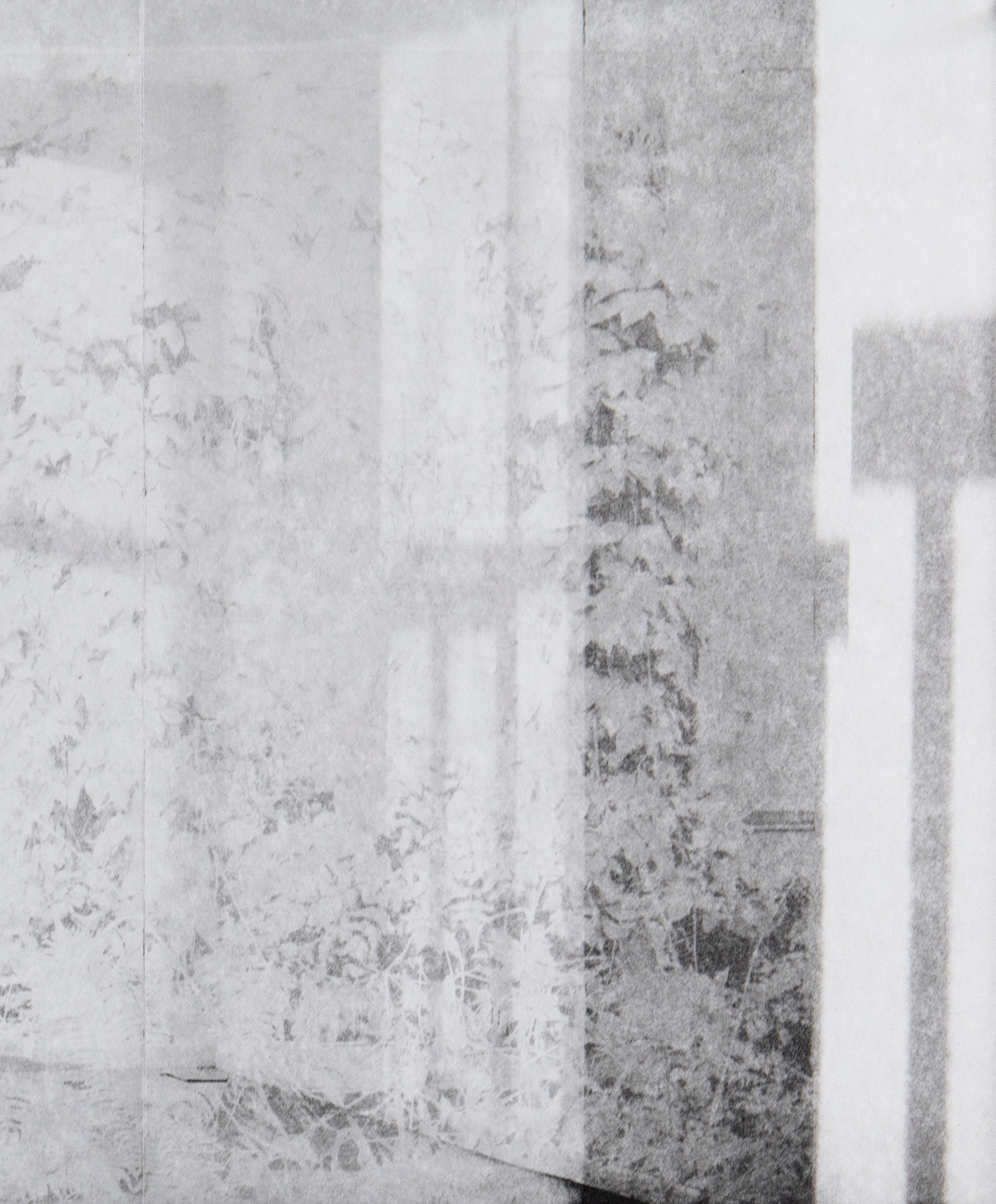 Overlap detalje, E.T. Munk&Jerichau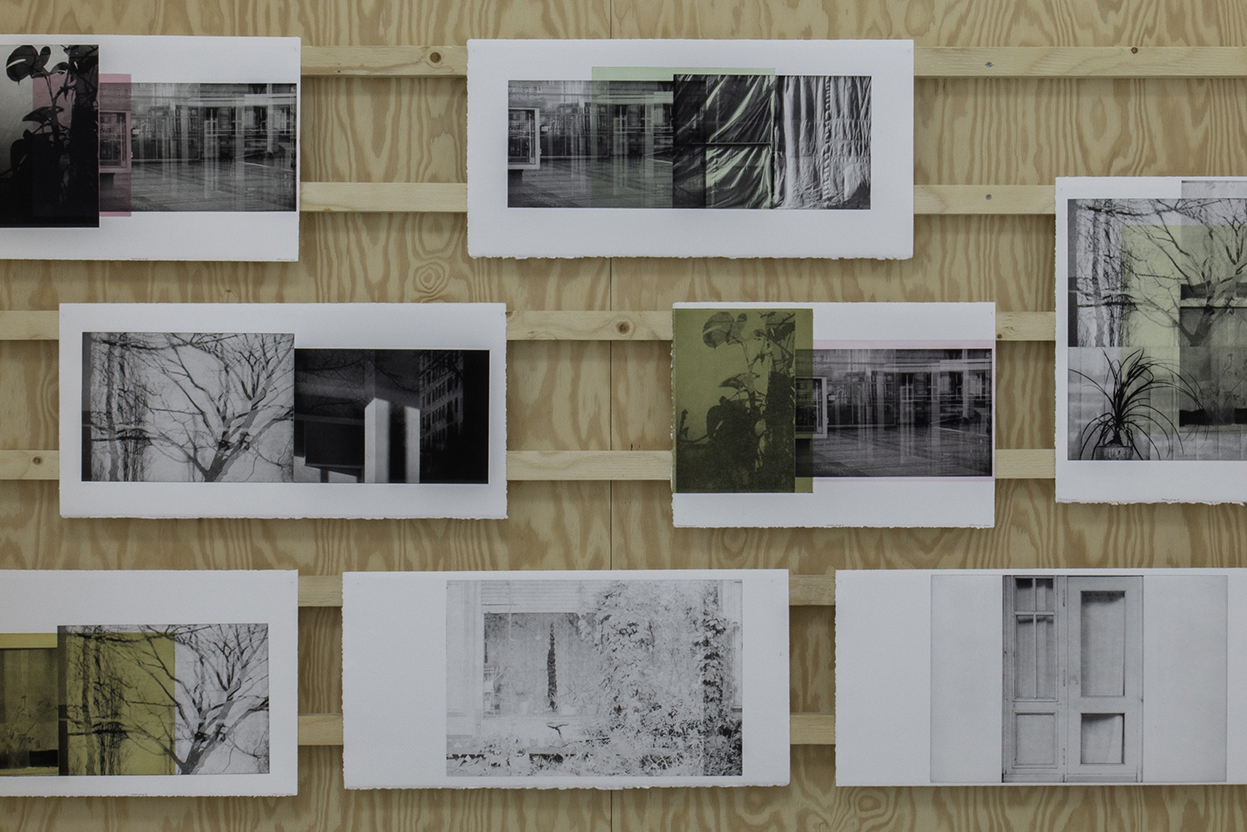 Overlap, installationview, Enter ArtSpace november 2021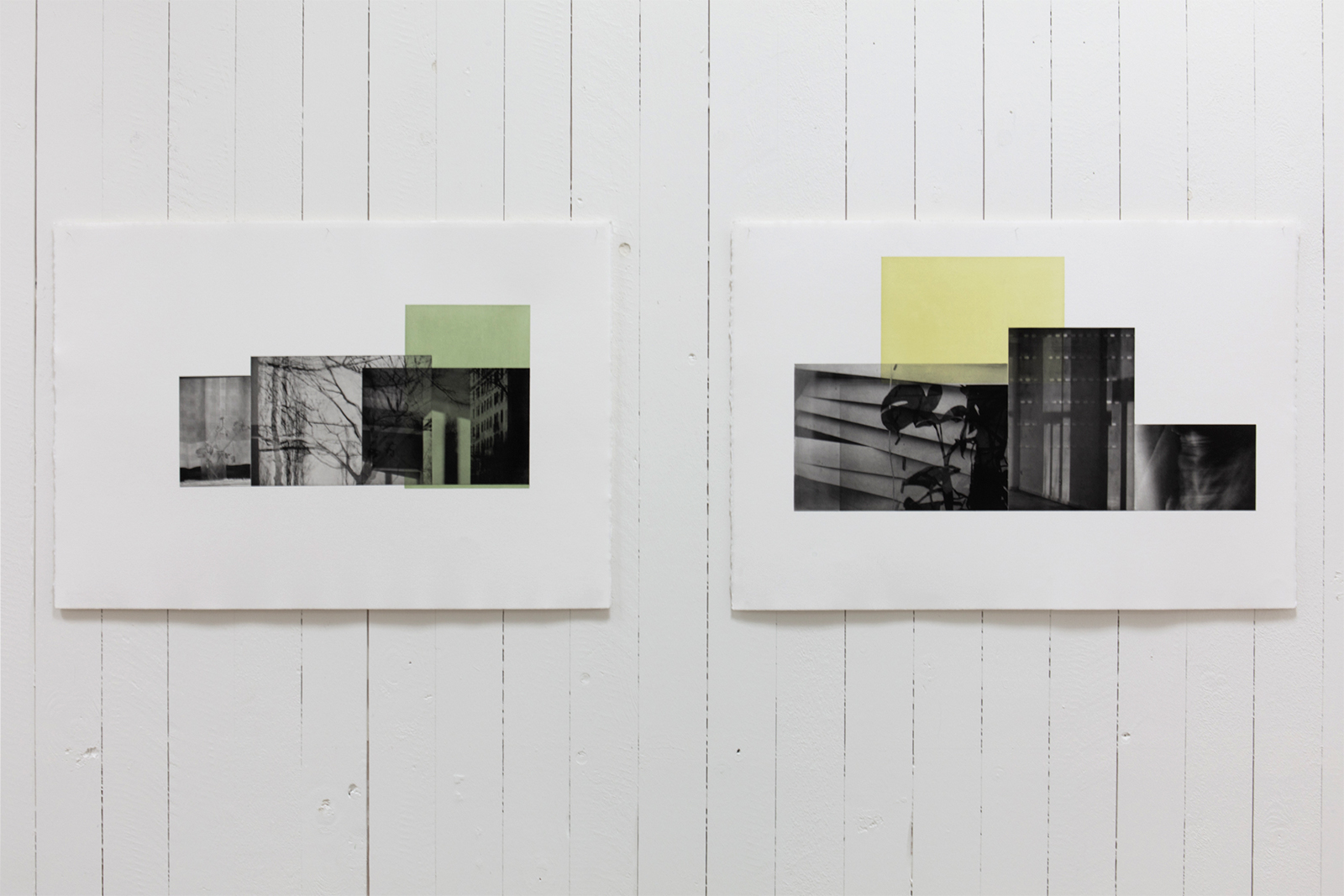 Overlap#5 (tv) og Overlap#2 (th). E.T. Munk&Jerichau, BKF Rives 63×91 cm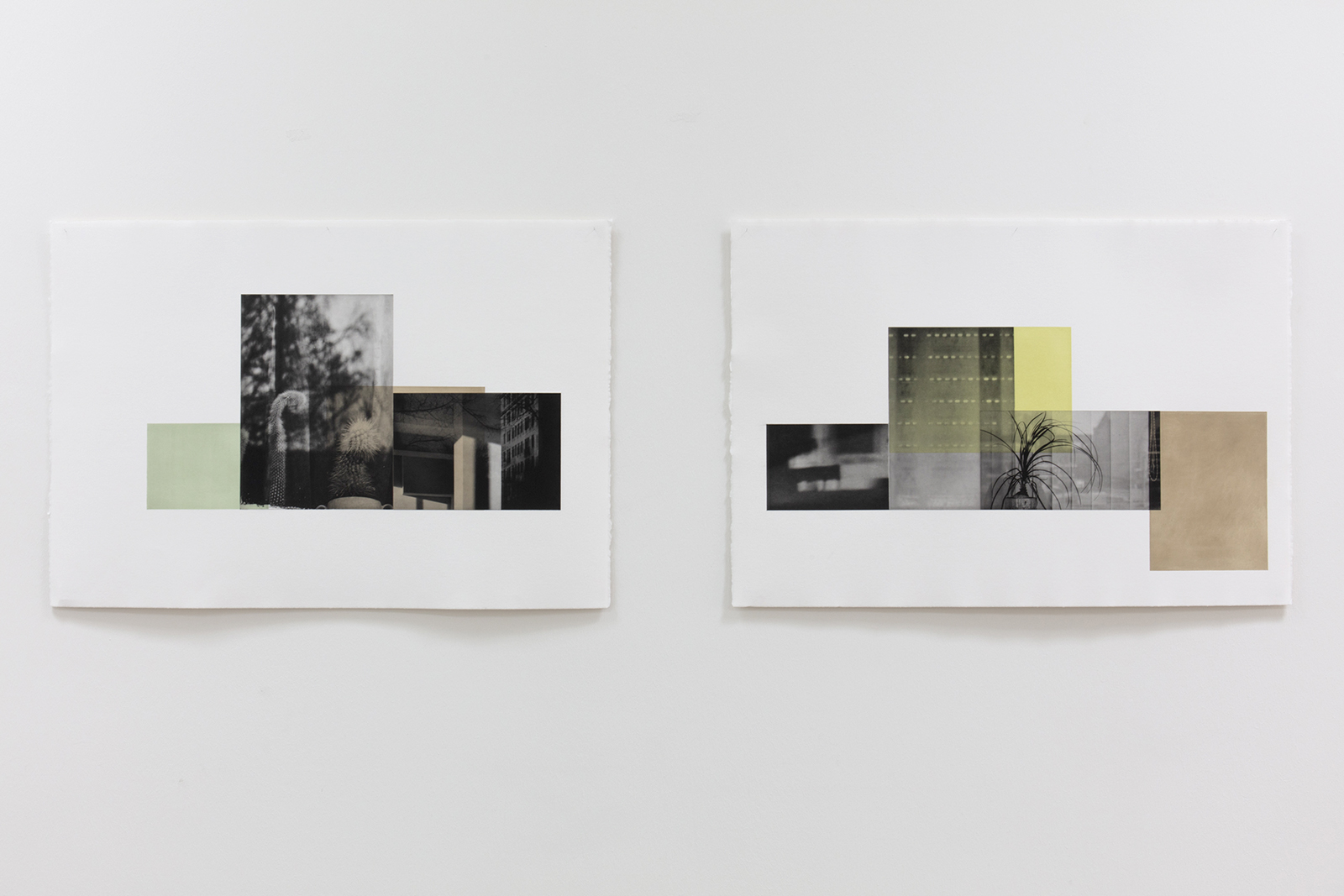 Overlap#1 (tv) og Overlap#3 (th). E.T. Munk&Jerichau, BKF Rives 63×91 cm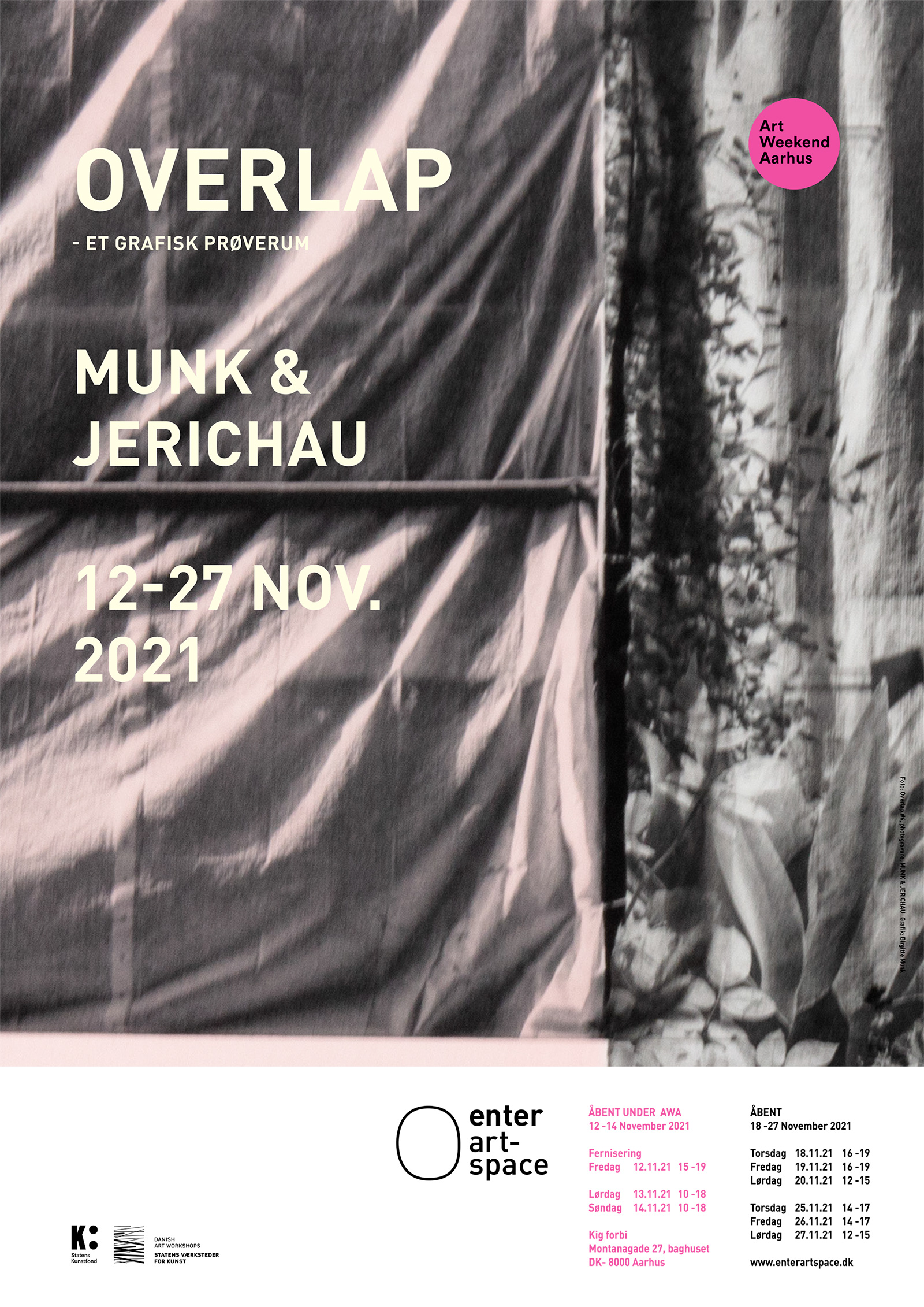 OVERLAP
Munk & Jerichau
Enter ArtSpace
12 – 27 November 2021
OVERLAP – et grafisk prøverum, er en udstilling med grafiske værker af fællesskabet Munk & Jerichau.
Motiverne er hentet fra bybilledet: Et gardin, en presenning, et vindue, en bygningsfacade, en potteplante. Et netværk af grene spejlet i en rude, lys og skygger. Enkle, genkendelige elementer. Som fra en byvandring. Rum optegnes flygtigt. Afdæmpede farveflader og fotografiske motiver overlapper hinanden.
Med udgangspunkt i deres individuelle fotografier har kunstnerne skabt en række fælles fotogravure-­værker. De har lagt deres billeder sammen, ét tryk er lagt oven på et andet, så de overlapper og danner nye kompositioner. Der, hvor billederne mødes – i overlappene – opstår nye fortællinger og betydninger.
Kunstnerne har føjet deres blikke sammen og på den måde fordoblet afsenderen. Fordoblingen af blikket, sløringen af motiverne, flimmeret af lys og skygge giver værkerne et flertydigt præg.
Som en invitation til beskueren til at gå på opdagelse i billedernes rum og lægge egne erfaringer og fortællinger til værkernes mange stemninger og betydningslag.
Munk & Jerichau

Publikation med tekst af forfatter Helene Johanne Christensen.
Værkerne er udført på Højbjerg FotoGrafiske Værksted og Statens Værksteder For Kunst oktober 2020. 

Projektet er støttet af Statens Kunstfonds Projektstøtteudvalg for Billedkunst og L. F. Foghts Fond.
Information om størrelse, priser og andet kontakt
OVERLAP is an exhibition presenting newer graphic works by the artist group Munk & Jerichau.
The motifs relate to the city: A curtain, a piece of tarpaulin, a window, the façade of a building, a potted plant. A network of branches reflected in a window, light and shadows. Simple, recognizable elements. Like taking a walk in a city. Spaces appear, fleetingly. Surfaces of color and photographic images overlap each other.
With their individual photographs as a starting point the artists have created a series of joint photogravure-works. They have put together their images; one print is placed upon another, so that they overlap and form new, geometrical compositions. In the space where the images meet; in the overlaps, new stories and new meaning appear.
The artists have merged their eyes and, in that way, doubled the sender. The doubling of the view, the blurring of the images, the flickering of light and shadow create a kind of openness, add an ambiguous touch to the works.
The viewer is invited to explore the space of the images and add her own experiences and stories to the many layers of feelings and meanings of the works.
Åbent under Art Weekend Aarhus
Fernisering:
12 nov. 2021, kl. 15.00 – 19.00
Lang weekend åbning. Mød kunstnerne
Lørdag 13. november 2021 kl. 10.00 – 18.00
Søndag 14. november 2021 kl. 10.00 – 18.00
Previous and upcoming exhibitions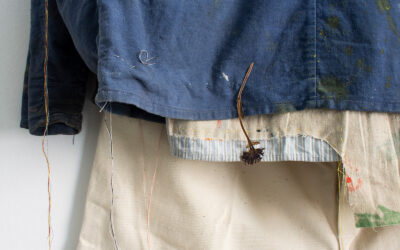 AGNÉ JUODVALKYTÉ
19. AUGUST – 3. SEPTEMBER 2023
Enter Artspace · Montanagade 27 · DK-8000 AARHUS C  · contact@enterartspace.dk