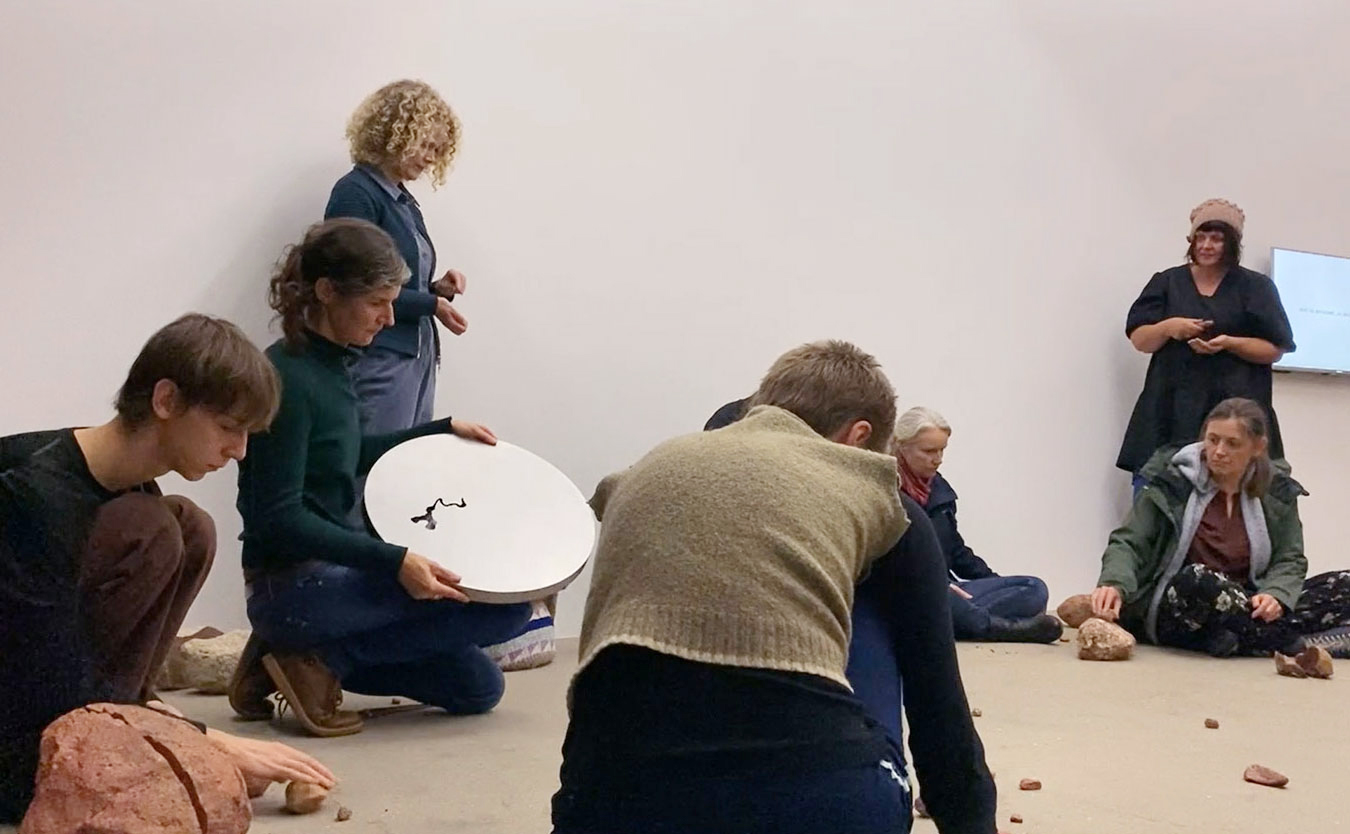 Stenvender talk and sound perfromance Enter ArtSpace 03.11.2022. Photo Birgitte Munk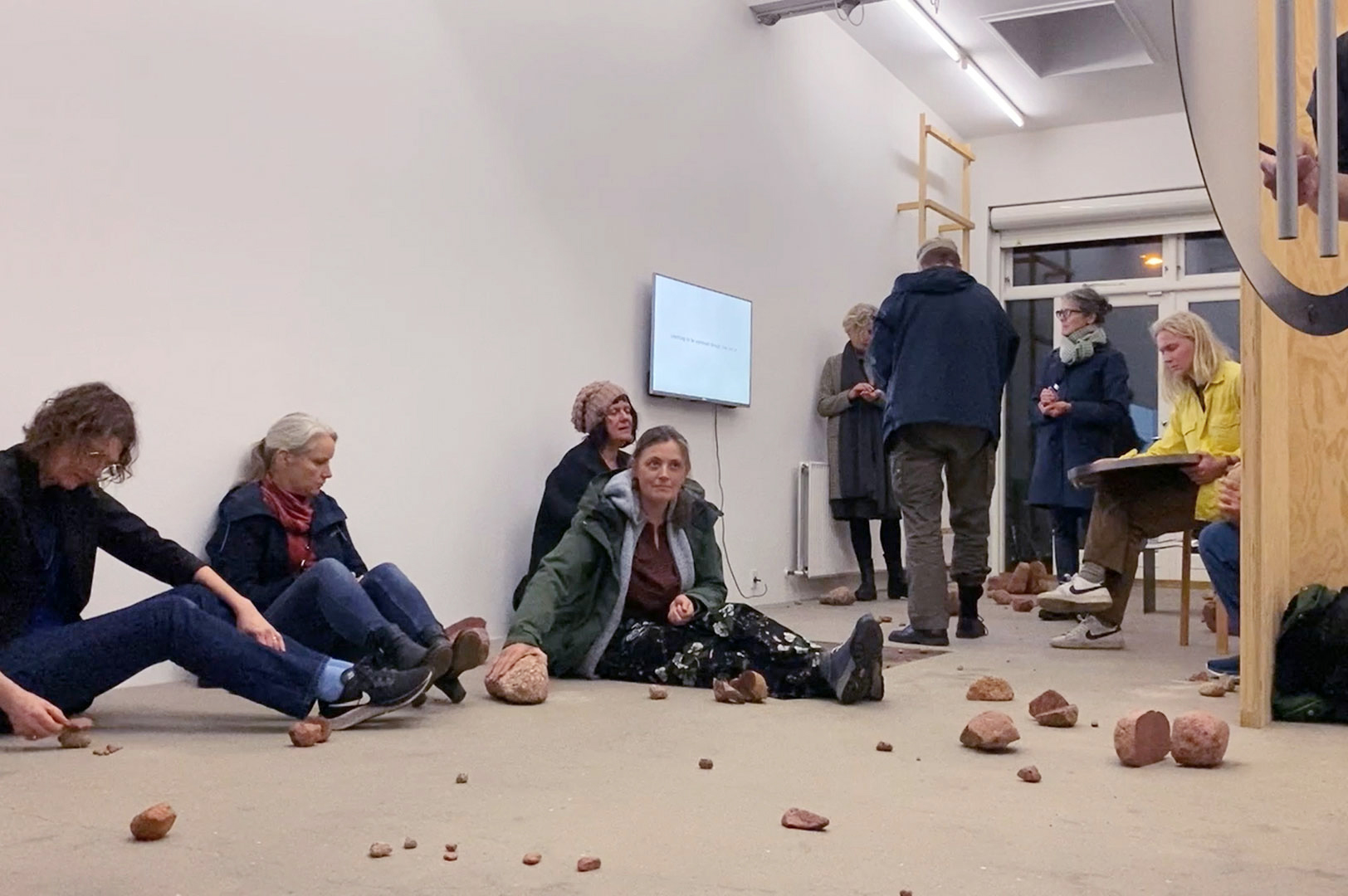 Stenvender talk and sound perfromance Enter ArtSpace 03.11.2022. Photo Birgitte Munk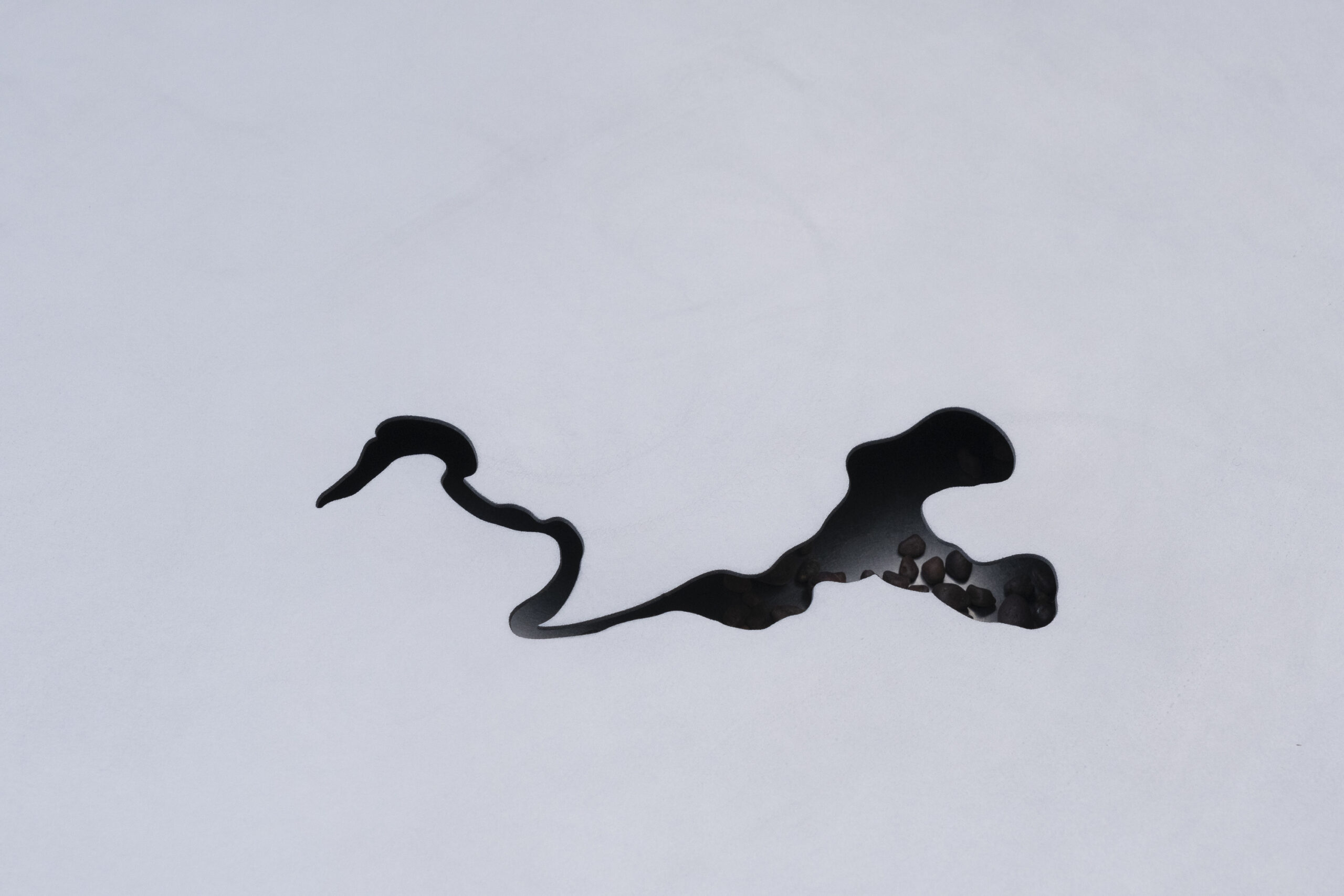 Erratic drum. Close up. Sibylle Eimermacher. Photo Birgitte Munk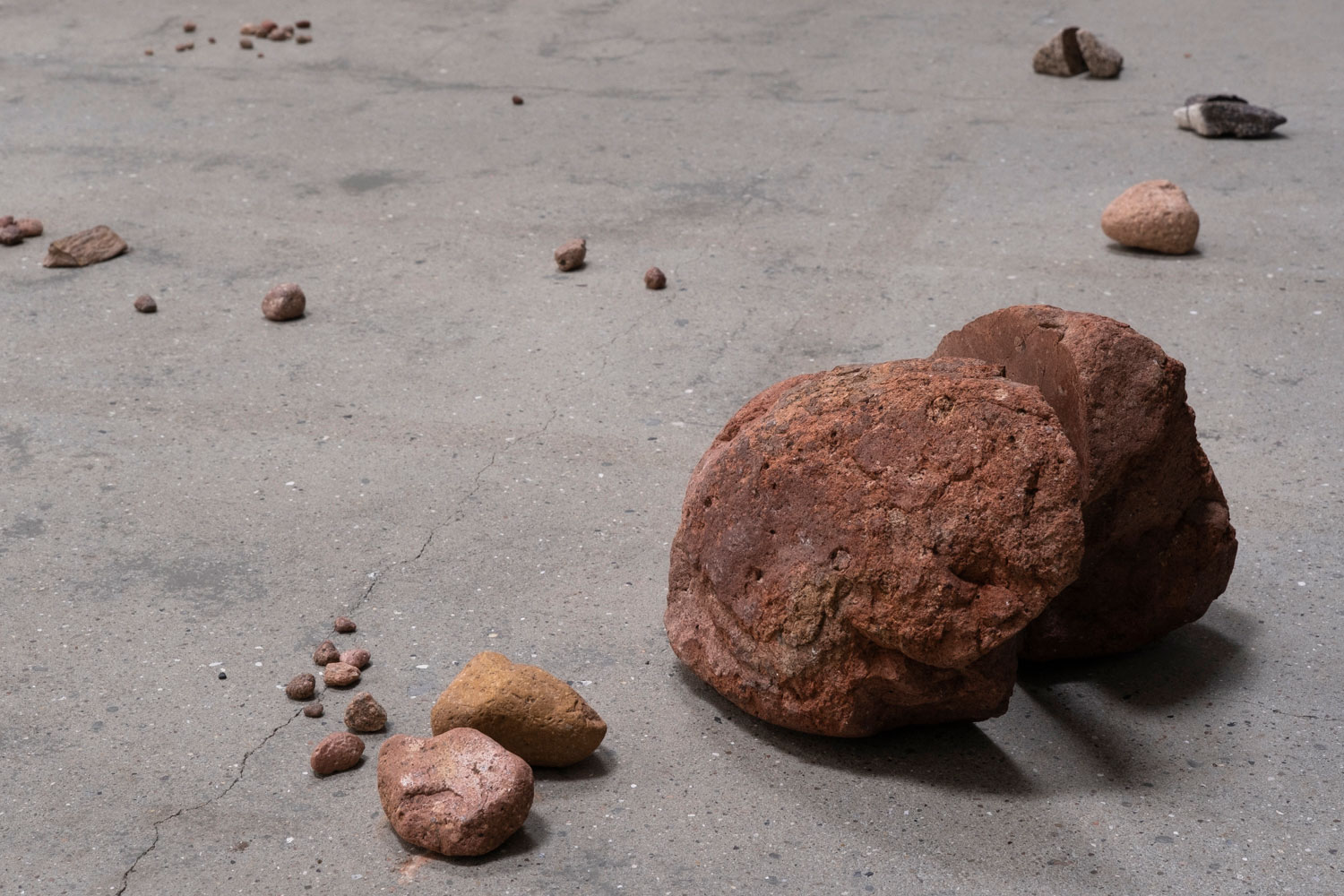 Stenvender after sound perfromance Enter ArtSpace 03.11.2022. Photo Birgitte Munk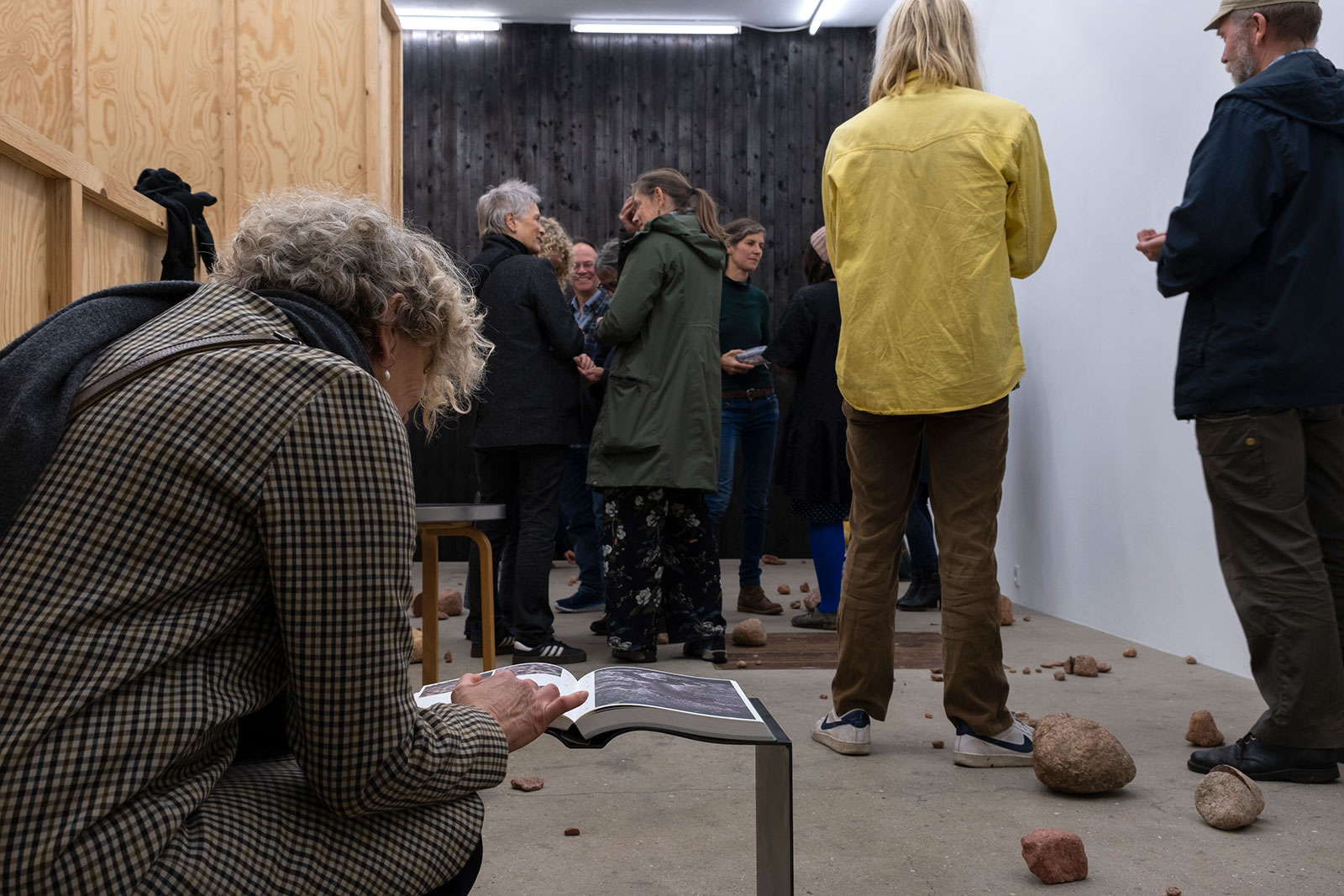 Stenvender talk and sound perfromance Enter ArtSpace 03.11.2022. Photo Birgitte Munk
STENVENDER
Artist talk and sound performance
SIBYLLE EIMERMACHER
Enter ArtSpace
Torsdag 3. November 2022 kl. 17-18
With her work, Sibylle Eimermacher reflects on our ambivalent relationship with the natural world, especially rocks and minerals. Ever since childhood, she has been drawn to the rocky landscapes of Scandinavia, that feel like home to her. The past years she explored the routes of erratic rocks, that were transported by the glaciers during the ice ages from Scandinavia southwestwards and for a big part ended up in the Netherlands, where she lives. With the elaboration of this immense geological phenomenon she reflects on the interconnectedness of landscapes and cultures, where borders are ignored and trespassed, and on the theme of migration in relation to cosmic forces and the universal condition of constant change.
During the artist talk, Sibylle will talk about the artworks that she developed within this project: a photobook, video and sound instruments, and her collection of partly cut and polished erratic rocks. We will hear about her passion for rocks and birds and the role they might play within the interconnectedness of the world.
Specifically, for the exhibition at Enter Artspace Sibylle developed the two erratic drums Stenvender. The drums are filled with tiny erratic pebbles, that she collected at the beach in Denmark. During a sound performance, where visitors are invited to participate or just listen, the sound of the erratic's being pushed over the land by the glaciers and meltwater rivers, is brought to mind.
Sibylle Eimermacher har fra barnsben været draget af det stenede skandinaviske landskab hvor hun føler sig hjemme. I sin kunstneriske praksis reflekterer hun over vores ambivalente forhold til naturen, særligt til sten og mineraler.
Hun har de sidste par år undersøgt trækruter fra vandreblokke der under istiderne er blevet transporteret af gletsjere fra Skandinavien sydvest til den del af Holland hvor hun selv bor. I udforskningen af dette umådelige geologiske fænomen reflekterer hun over den indbyrdes sammenhæng mellem landskab og kultur hvor grænser overskrides, samt på selve vandringen som tema i relation til kosmiske kræfter og konstant foranderlighed som en universel betingelse.
Under artist talken vil Sibylle fortælle om de værker hun udviklede gennem projektet: en fotobog, video og lydinstrumenter, samt hendes samling af delvist udskårne og polerede vandreblokke. Vi vil høre om hendes lidenskab for sten og fugle og om den rolle de måske indtager i verdens indbyrdes samhørighed.
Sibylle har udviklet trommerne Stenvender særligt til udstillingen i Enter Artspace. Trommerne er fyldt med sten som hun har samlet på den danske strand. Gennem en lyd-performance hvor gæsterne er inviteret til at deltage eller blot lytte, henledes tankerne til lyden af vildfarne klippestykker og vandreblokke der skubbes gennem landet af gletsjere og smeltevandsfloder.

Previous and upcoming exhibitions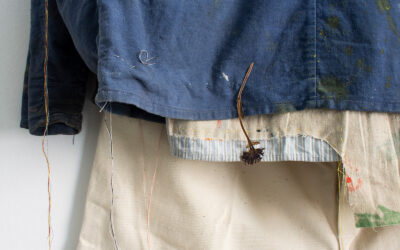 AGNÉ JUODVALKYTÉ
19. AUGUST – 3. SEPTEMBER 2023
Enter Artspace · Montanagade 27 · DK-8000 AARHUS C  · contact@enterartspace.dk