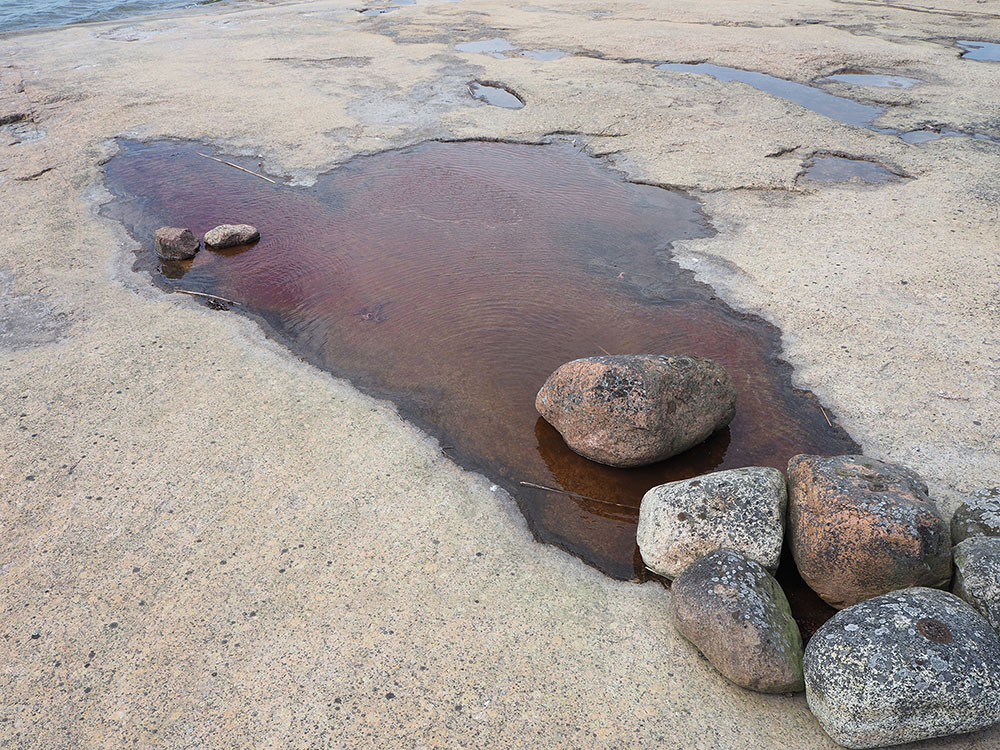 Vårdö, Åland (FIN). Foto Sibylle Eimermacher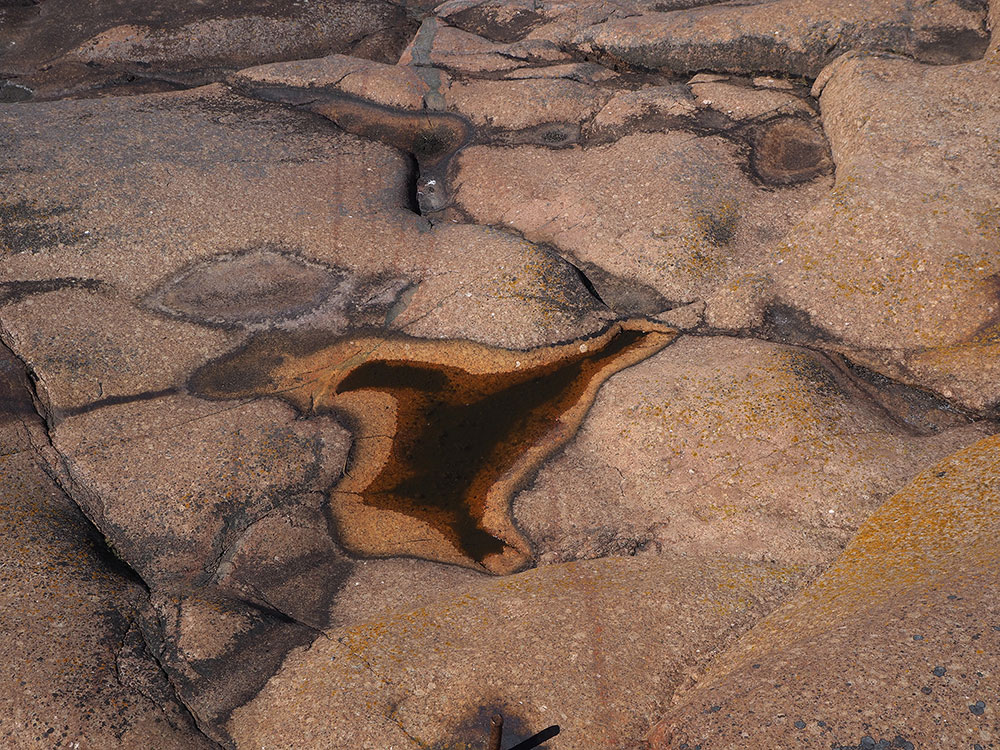 Herröskatan, Åland (FIN). Foto Sibylle Eimermacher
Photobook A Guide Through Hue by Sibylle Eimermacher, published by The Eriskay Connection
STENVENDER
SIBYLLE EIMERMACHER
Enter ArtSpace
28. oktober – 6. november 2022
With her work, Sibylle Eimermacher reflects on our ambivalent relationship with the natural world, especially rocks and minerals. Ever since childhood, she has been drawn to the rocky landscapes of Scandinavia, that feel like home to her. A few years ago, her eyes fell upon the reds, browns and purples of granite and porphyry found on sandy Dutch terrains. These stones speak of the migratory routes that they followed during the glaciations. Researching the geological backgrounds of these glacial erratics, her urge to travel up north was reawakened.
With the elaboration of this immense geological phenomenon she reflects on the interconnectedness of landscapes and cultures, where borders are ignored and trespassed, and on the theme of migration in relation to cosmic forces and the universal condition of constant change. The exhibition Stenvender (English: Turnstone) shows several works that she developed during this research:
The photobook A Guide Through Hue is a record of her observations and leads the viewer to where the rocks are laid bare, to the open veins that pigment the landscape and guide the eye from the moment it is attuned to the hue.
The video Ellipse tells a semi-fictive story on bird and rock migration in relation to the glaciations and cosmic forces – a reflection on longing and belonging.
Loom is an instrument tuned to the basic frequency of the Schumann resonance that – caused by lightning discharges in the atmosphere – propagates between the ionosphere and the Earth's surface: the heartbeat of the Earth.
Specifically, for this exhibition Sibylle developed the erratic drums Stenvender, that bring to mind the sound of the erratics when being pushed over the land by the glaciers and meltwater rivers.
Sibylle Eimermacher is born 1979 in Münster, Germany, and lives in the Netherlands now for more than twenty years. Holding a MFA from the Frank Mohr Institute in Groningen (NL) and a BFA from the AKI Academy of Art & Design in Enschede (NL), she works in the fields of sculpture, photography, video, performance and artist books.

Her interest in the relationship between man and nature often leads her outside her studio. Roaming the Dutch flatlands a well as untouched mountain regions, she keeps one eye scanning the ground for rocks, and the other one scanning the sky, following the birds. With her recently published book A Guide Through Hue she translates her autobiographical background to the migratory routes of erratic rocks.

Previous and upcoming exhibitions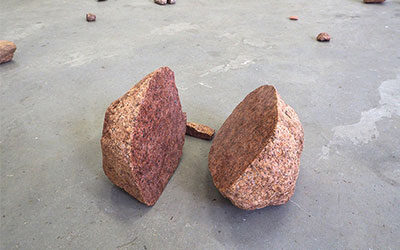 Sibylle Eimermacher
Torsdag 3. November 2022 kl. 17-18
Enter Artspace · Montanagade 27 · DK-8000 AARHUS C  · contact@enterartspace.dk