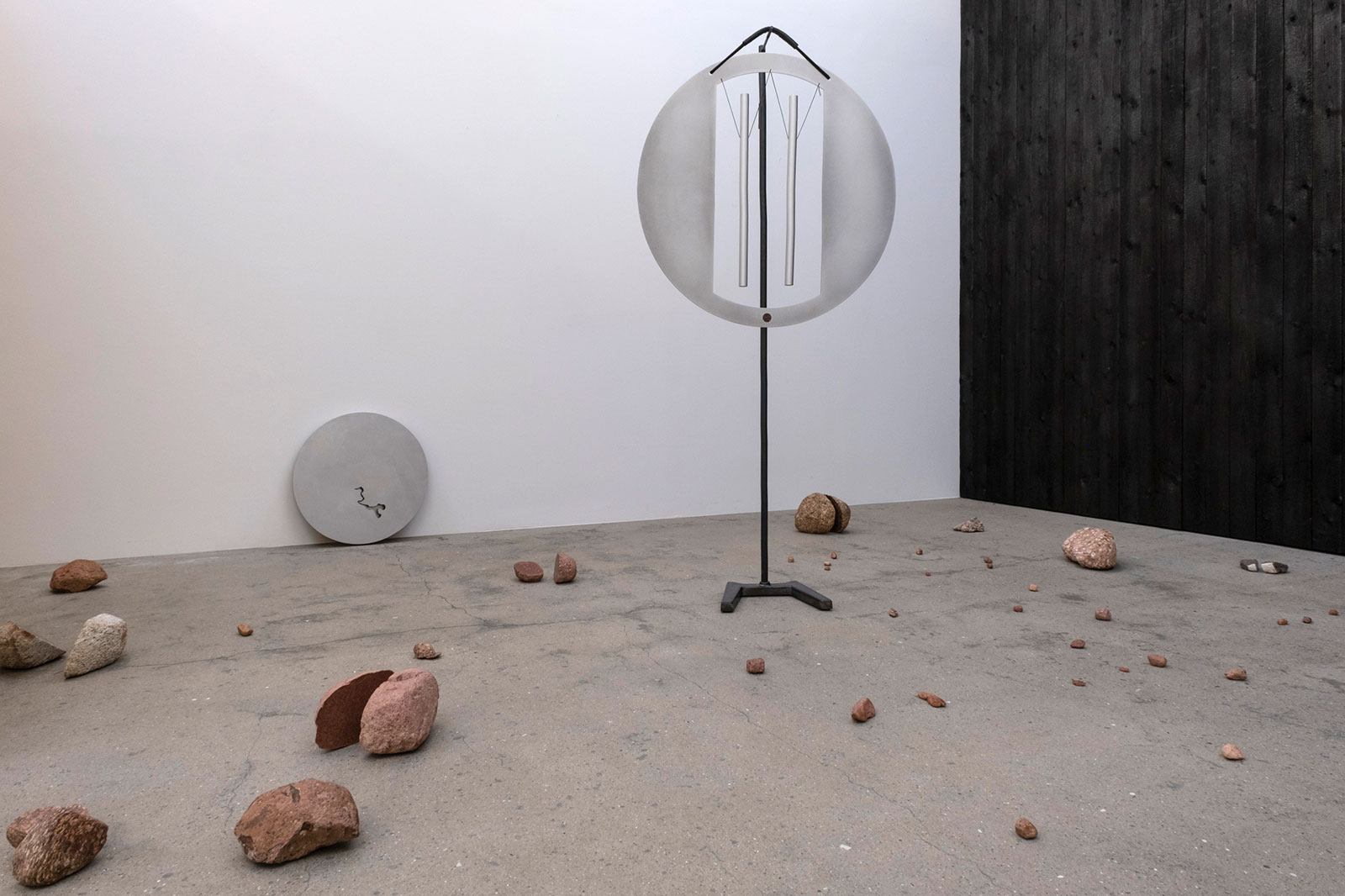 Exhibition View, Enter ArtSpace 28.10.2022.  Photo Birgitte Munk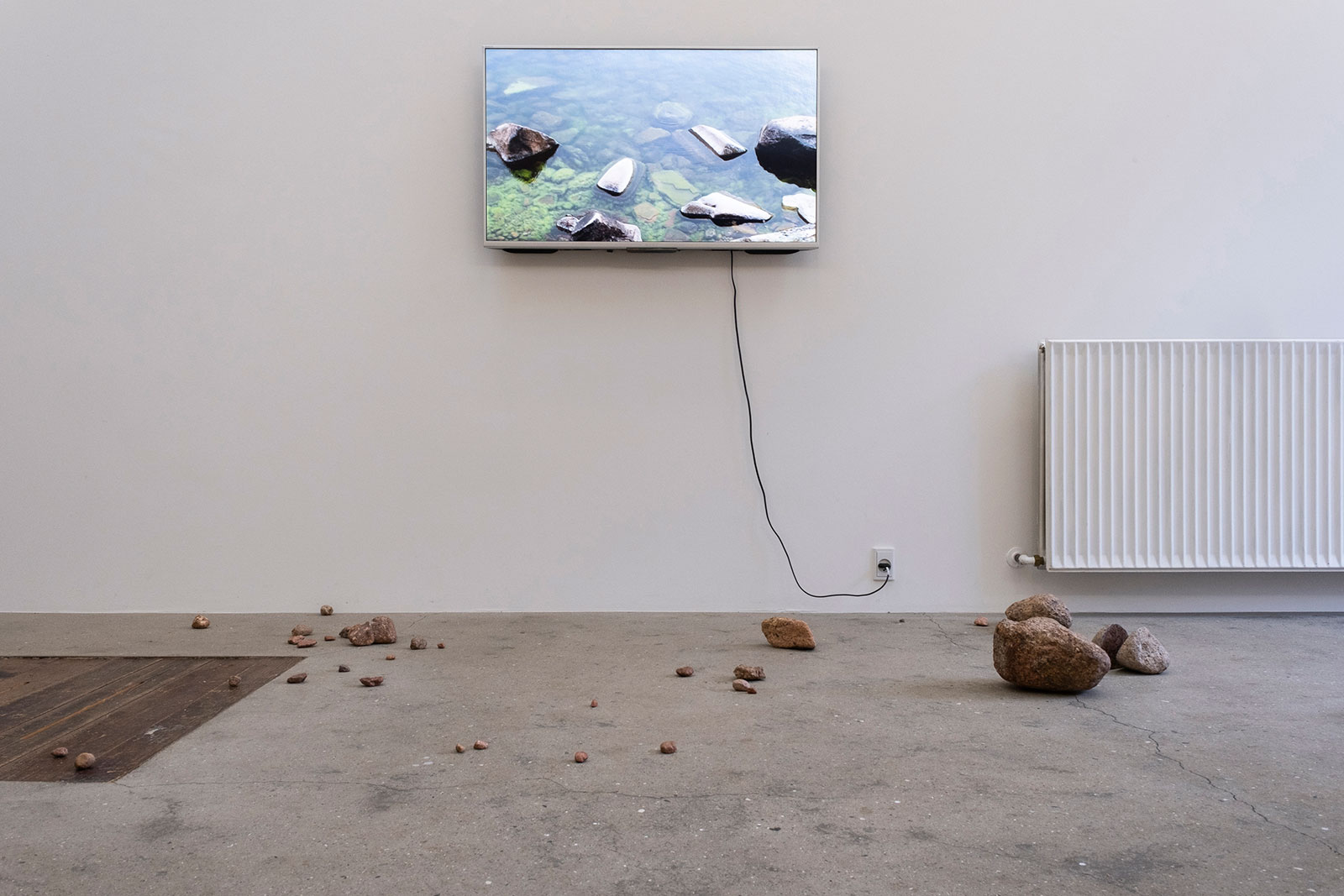 Exhibition View, Enter ArtSpace 28.10.2022.  Photo Birgitte Munk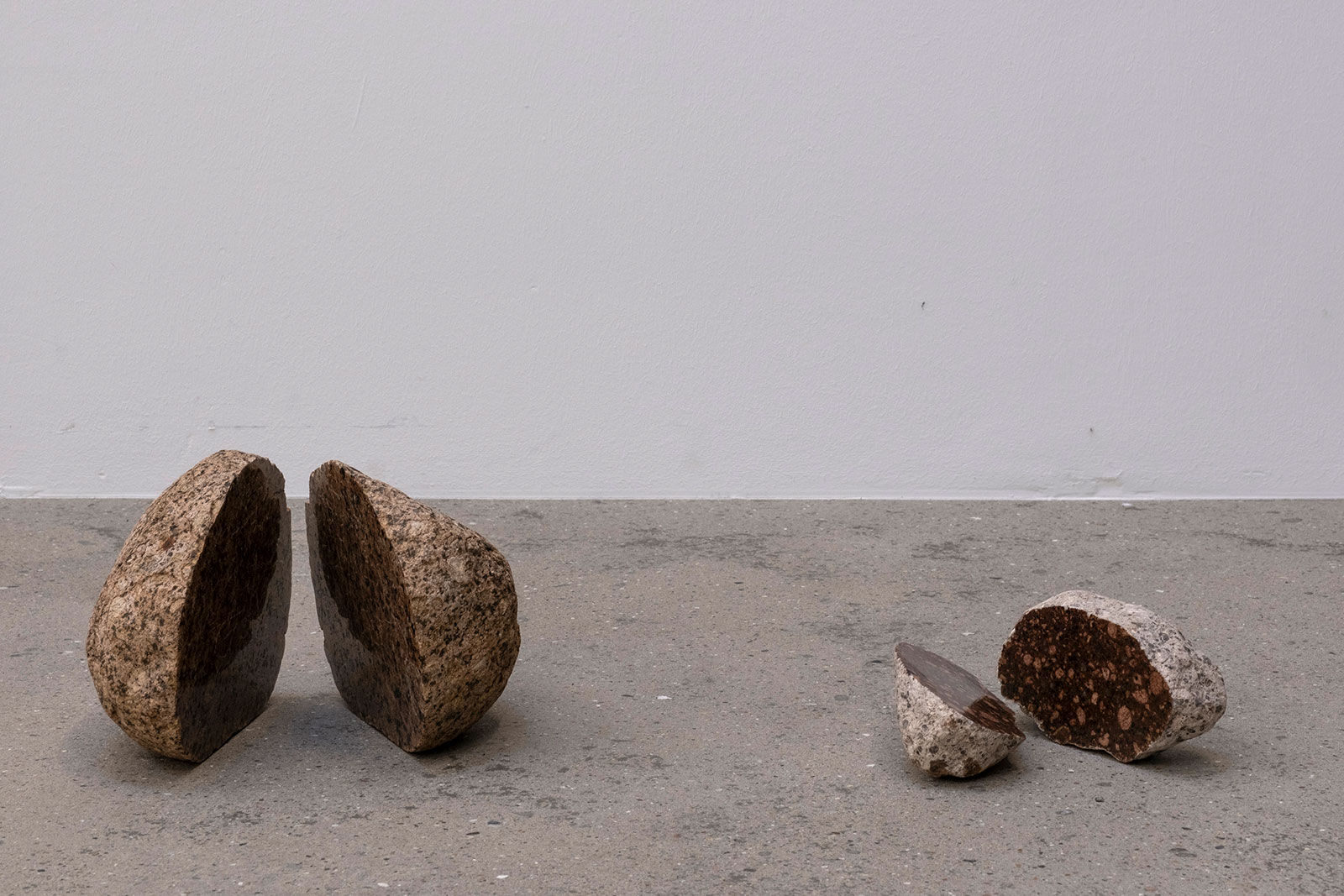 Exhibition View, Enter ArtSpace 28.10.2022.  Photo Birgitte Munk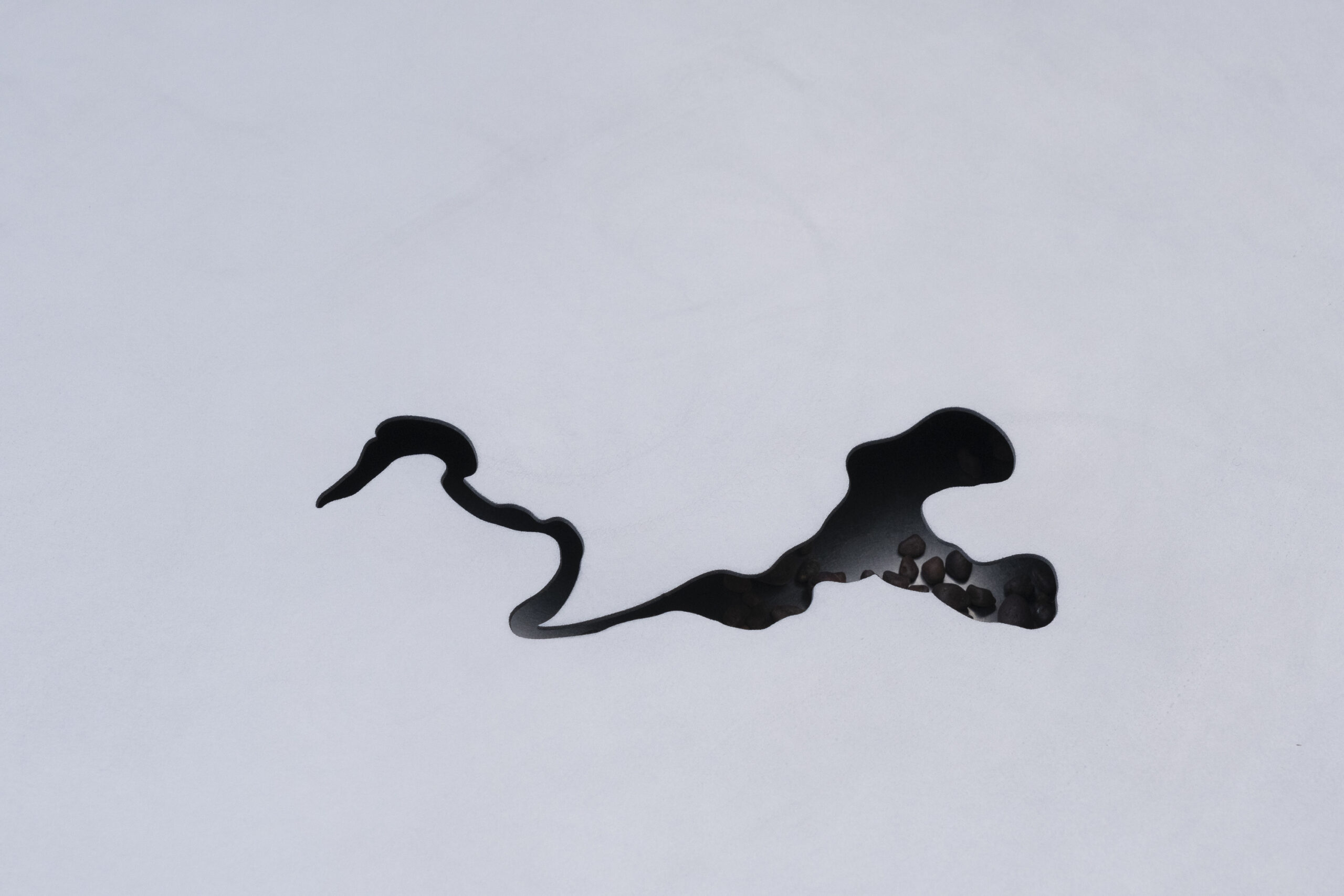 Loom close up. Photo Birgitte Munk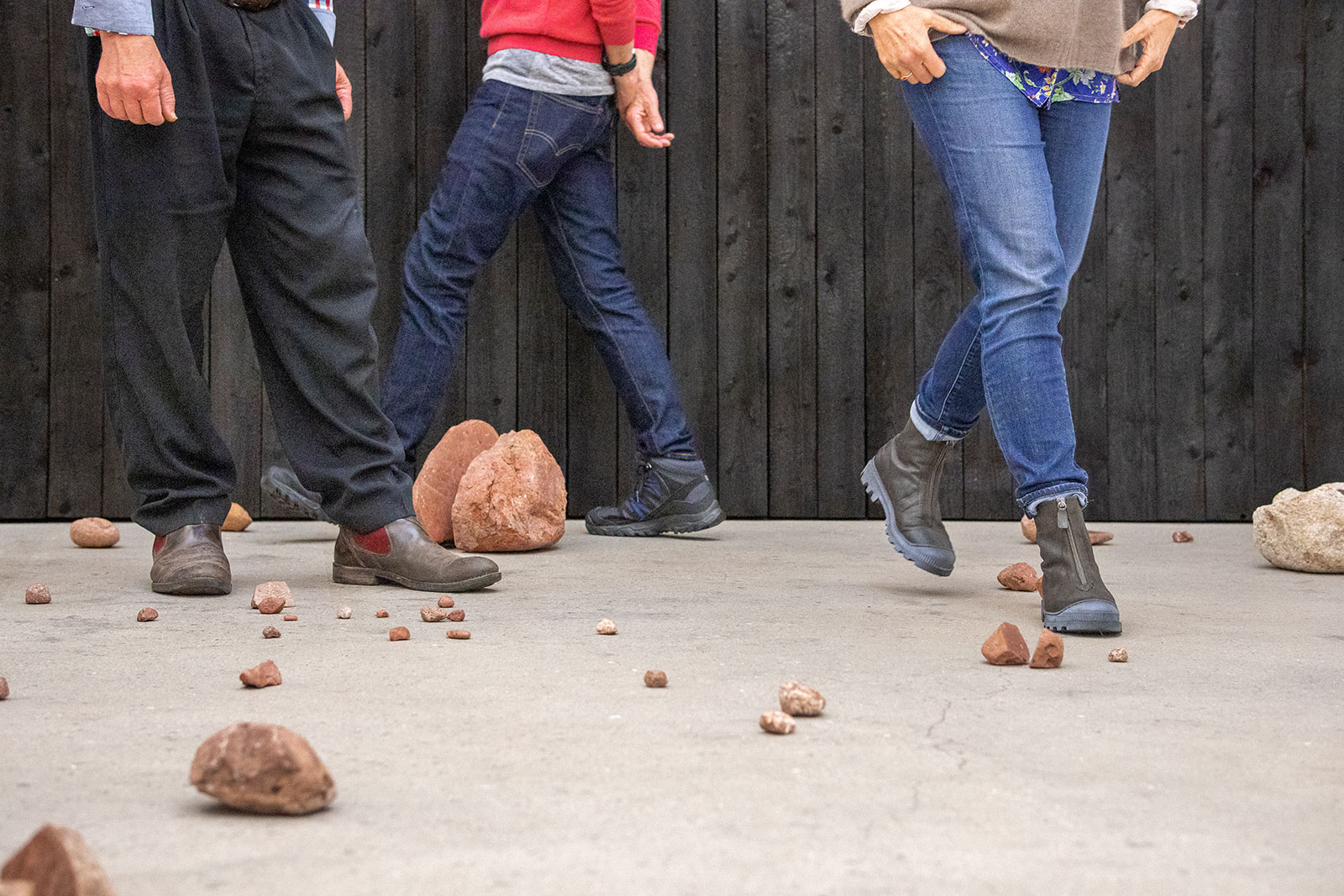 Opening 'Stenvender' Enter ArtSpace 28.10.2022.  Photo April Cederfeldt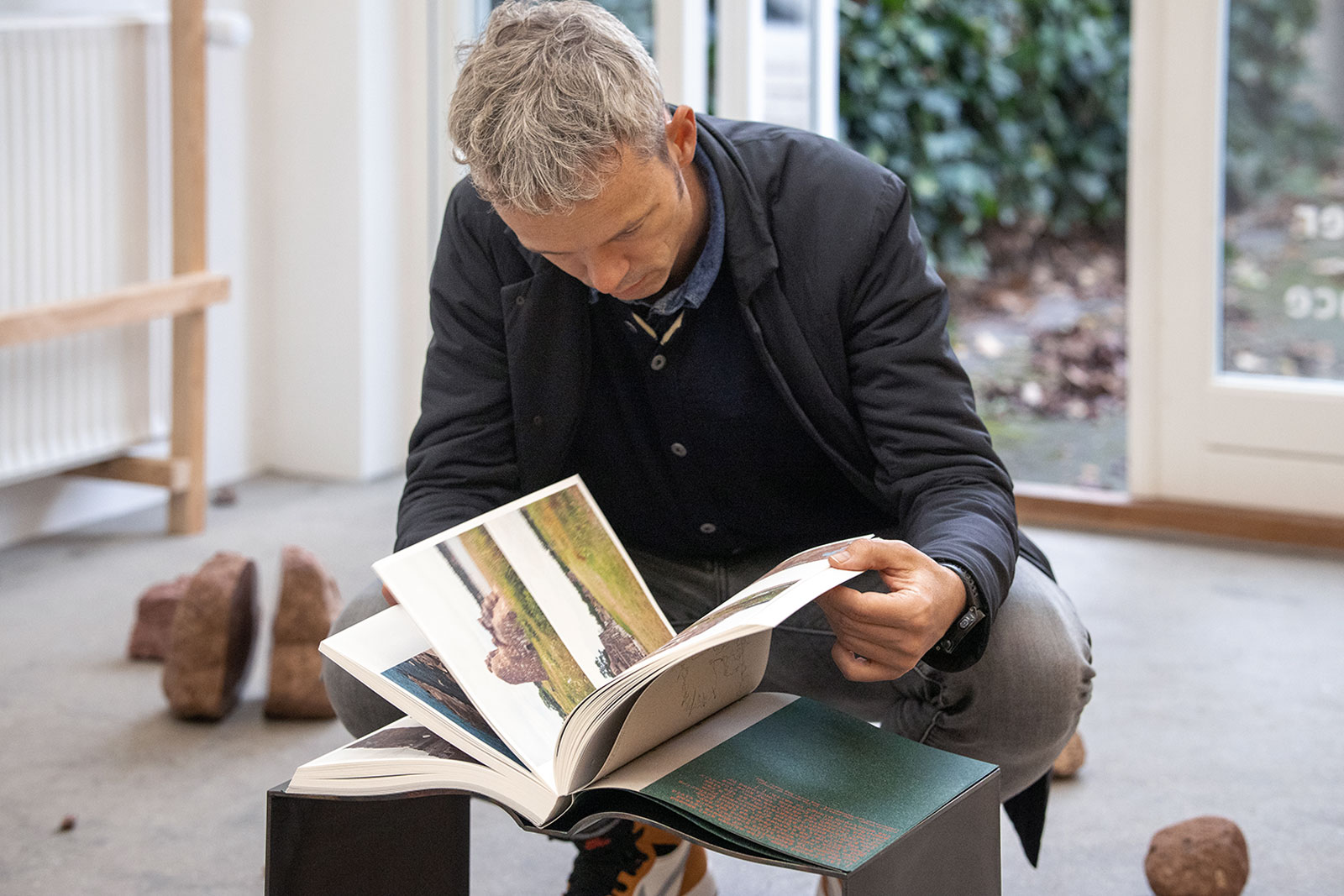 Opening 'Stenvender' Enter ArtSpace 28.10.2022.  Photo April Cederfeldt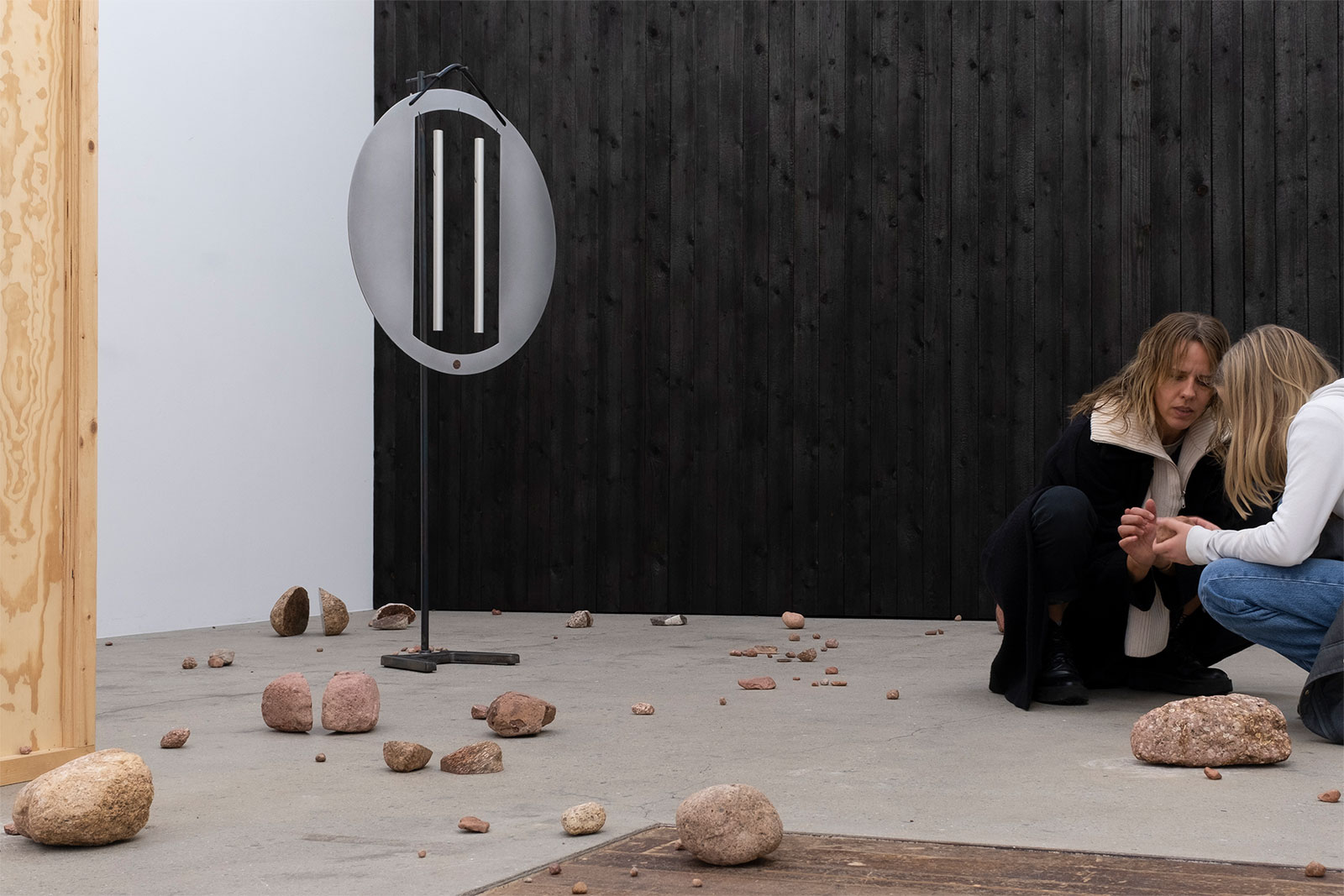 'Stenvender' Enter ArtSpace 06.11.2022.  Photo Birgitte Munk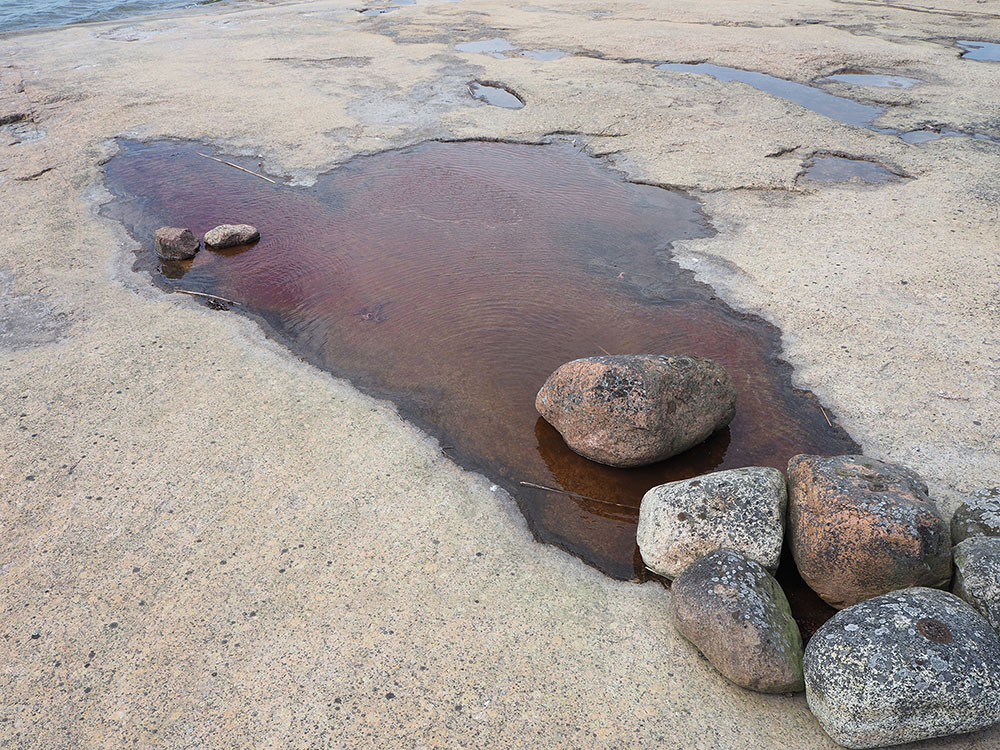 Vårdö, Åland (FIN). Foto Sibylle Eimermacher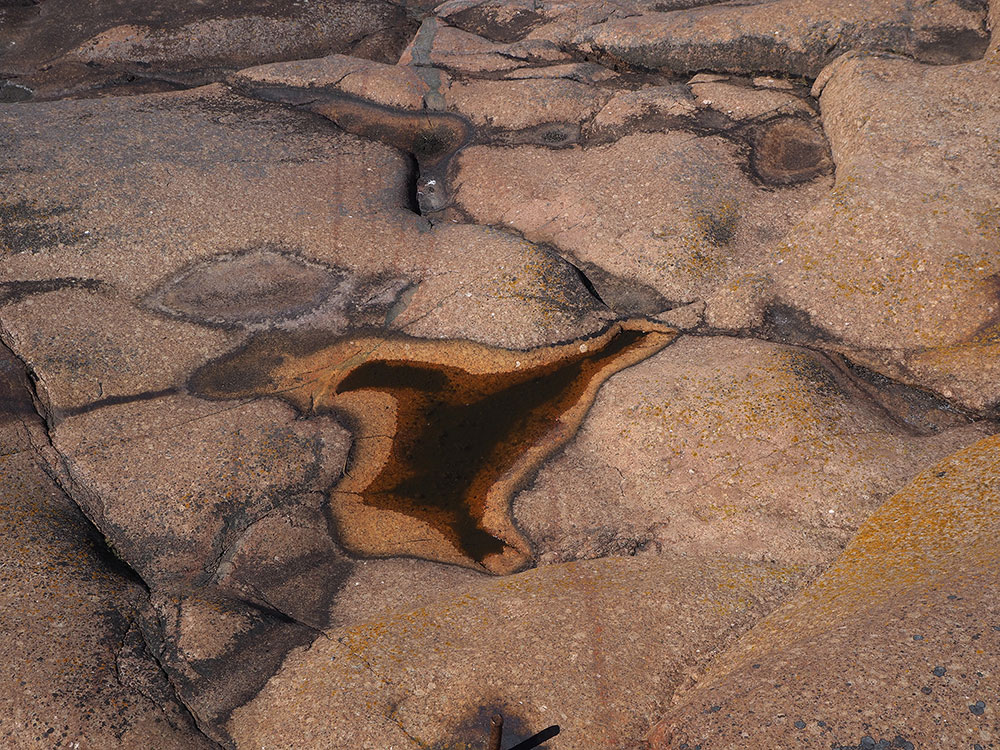 Herröskatan, Åland (FIN). Foto Sibylle Eimermacher
Photobook A Guide Through Hue by Sibylle Eimermacher, published by The Eriskay Connection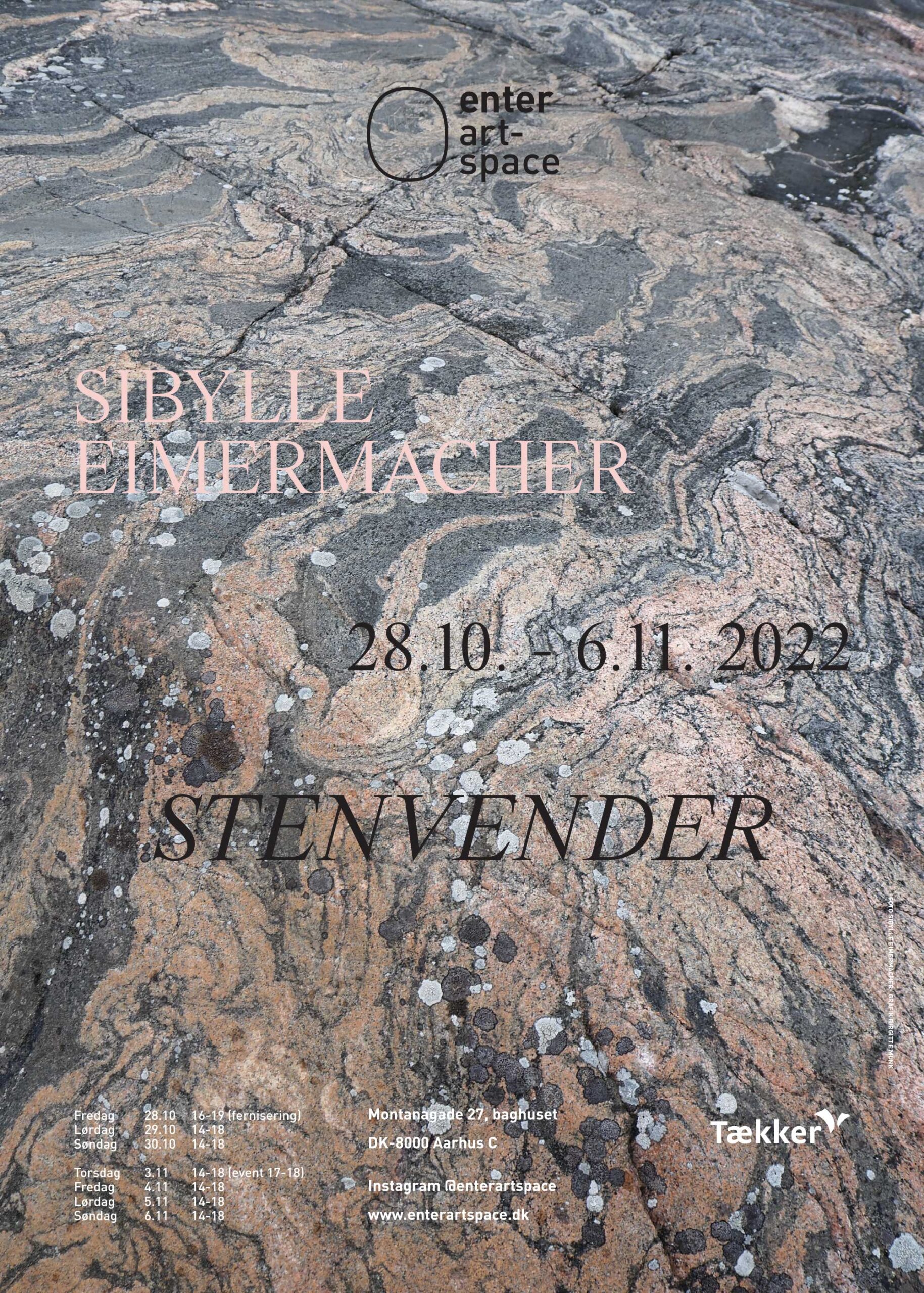 Poster Stenvender. Photo Sibylle Eimermacher. Graphic Design Birgitte Munk.
STENVENDER
SIBYLLE EIMERMACHER
Enter ArtSpace
28. october – 6. november 2022
OPENING FRIDAY 28. OCTOBER 16.00-19.00
With her work, Sibylle Eimermacher reflects on our ambivalent relationship with the natural world, especially rocks and minerals. Ever since childhood, she has been drawn to the rocky landscapes of Scandinavia, that feel like home to her. A few years ago, her eyes fell upon the reds, browns and purples of granite and porphyry found on sandy Dutch terrains. These stones speak of the migratory routes that they followed during the glaciations. Researching the geological backgrounds of these glacial erratics, her urge to travel up north was reawakened.
With the elaboration of this immense geological phenomenon she reflects on the interconnectedness of landscapes and cultures, where borders are ignored and trespassed, and on the theme of migration in relation to cosmic forces and the universal condition of constant change. The exhibition Stenvender (English: Turnstone) shows several works that she developed during this research:
The photobook A Guide Through Hue is a record of her observations and leads the viewer to where the rocks are laid bare, to the open veins that pigment the landscape and guide the eye from the moment it is attuned to the hue.
The video Ellipse tells a semi-fictive story on bird and rock migration in relation to the glaciations and cosmic forces – a reflection on longing and belonging.
Loom is an instrument tuned to the basic frequency of the Schumann resonance that – caused by lightning discharges in the atmosphere – propagates between the ionosphere and the Earth's surface: the heartbeat of the Earth.
Specifically, for this exhibition Sibylle developed the erratic drums Stenvender, that bring to mind the sound of the erratics when being pushed over the land by the glaciers and meltwater rivers.
Sibylle Eimermacher is born 1979 in Münster, Germany, and lives in the Netherlands now for more than twenty years. Holding a MFA from the Frank Mohr Institute in Groningen (NL) and a BFA from the AKI Academy of Art & Design in Enschede (NL), she works in the fields of sculpture, photography, video, performance and artist books.

Her interest in the relationship between man and nature often leads her outside her studio. Roaming the Dutch flatlands a well as untouched mountain regions, she keeps one eye scanning the ground for rocks, and the other one scanning the sky, following the birds. With her recently published book A Guide Through Hue she translates her autobiographical background to the migratory routes of erratic rocks.
I sin kunstneriske praksis reflekterer Sibylle Eimermacher over vores ambivalente forhold til naturen, særligt til sten og mineraler. Hun har fra barnsben været draget af det stenede skandinaviske landskab hvor hun føler sig hjemme. År tilbage faldt hun over de røde, brune og lilla granitter og porfyr man finder i det sandede hollandske terræn. Bjergarterne vidner om de trækruter de har fulgt igennem istiderne. Gennem undersøgelser af disse vildfarne klippestykker, såkaldte vandreblokke, blev hendes trang til at rejse mod nord vagt på ny.
I udforskningen af dette umådelige geologiske fænomen reflekterer hun over den indbyrdes sammenhæng mellem landskab og kultur hvor grænser overskrides, samt på selve vandringen som tema i relation til kosmiske kræfter og konstant foranderlighed som en universel betingelse. Udstillingen Stenvender er en bred præsentation af hendes værker der tager afsæt i denne undersøgelse:
Fotobogen A Guide Through Hue er en fortegnelse over hendes observationer der fører læseren igennem blotlæggelsen af bjergarterne til de åbne årer der præger landskabet.
Videoen Ellipse skildrer en semi-fiktiv fortælling om fugle- og stentræk i forbindelse med istiderne og kosmiske kræfter. En refleksion over længsel og tilhør.
Loom er et instrument der er stemt efter grundfrekvensen i Schumann-resonansen der – anslået af lynudledninger i atmosfæren – optræder i området mellem ionosfæren og Jordens overflade: Jordens hjerteslag.
Trommerne Stenvender er et værk, der er særligt udviklet til denne udstilling for at henlede tankerne til lyden af vildfarne klippestykker og vandreblokke der skubbes gennem landet af gletsjere og smeltevandsfloder.
Et gennemgribende element i udstillingen er Sibylles samling af vandreblokke fra Drenthe (NL). En del af klippestykkerne er skåret i halve og polerede, så deres indre krystalliske strukturer og detaljerigdom blotlægges, synliggøres og forstærkes.
OM KUNSTEREN
Sibylle Eimermacher er født i 1979 i Münster, Tyskland, og har i dag boet i Holland i mere end 20 år. Med en MFA (Master of Fine Arts) fra Frank Mohr instituttet i Groningen (NL) og en BFA (Bachelor of Fine Arts) fra AKI Academy of Art & Design i Enschede (NL) arbejder hun med skulptur, fotografi, video, performance og artist books.
Hendes interesse i forholdet mellem menneske og natur leder hende ofte ud af studiet. Når hun strejfer omkring de hollandske sletter og uberørte bjergområder lader hun ét øje spejde mod jorden efter sten og det andet mod himlen hvor det følger fuglene. Med hendes seneste udgivelse A Guide Through Hue tolker hun sin egen baggrund i forhold til vandreblokkenes trækruter.

Previous and upcoming exhibitions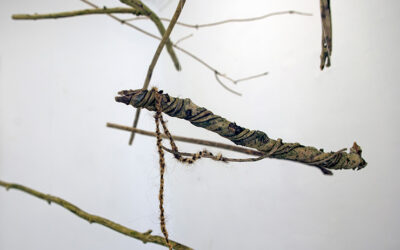 METTE BORUP KRISTENSEN
10 – 25 NOVEMBER 2023
Enter Artspace · Montanagade 27 · DK-8000 AARHUS C  · contact@enterartspace.dk